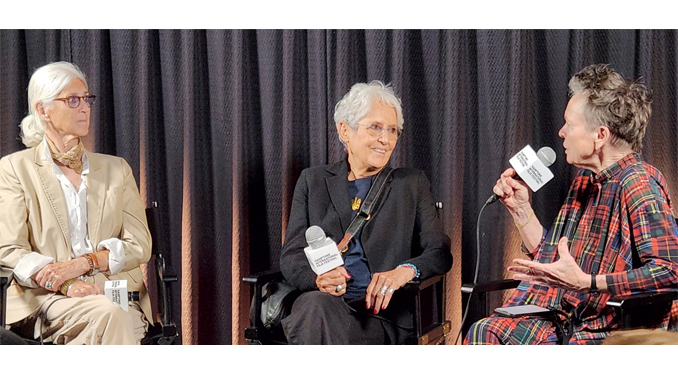 by Debbie Tuma
Having been a long-time fan of Joan Baez, and seeing her at concerts in the 70's and 80's, I never dreamed I would get to see her share her amazing life story in person, and on the big screen, right here at East Hampton Cinema. Kudos once again, to the 2023 HamptonsFilm Summer Docs series, for showing her insightful new movie, "Joan Baez: I am a Noise," as their final documentary of the summer season. And for having legendary avante-garde artist and musician Laurie Anderson be the one to interview Baez following the screening, was an added bonus.
You would think that "I am a Noise" would be enough of a movie just spanning all the music and political activism of Joan Baez's colorful life, but this iconic singer chose to do more than that….she chose to also share her personal and emotional struggles on her long journey. The movie opens with a prophetic quote from Gabriel Garcia Marquez that reads, "Everyone has three lives—the public, the private, and the secret." And in her film, Baez decided to show all three.
The film shows her upbringing in California, with her Mexican father, her mother, and her two sisters, Pauline and Mimi. Her father, a research physicist, taught her that in society there are the haves and the have nots, and social justice became a driving force in her life. Joan, the middle sister, loved singing, and used to play the guitar and sing at local venues, where she garnered attention. When her family moved across the country from Palo Alto to Boston, she started singing in Harvard Square, and then performed at the Newport Folk Festival in 1959. It was here, at age 18, that her beautiful voice got discovered and she decided to pursue a singing career.
Along the way, in New York City in 1961, she met Bob Dylan, who was also her age and just starting out. She was already famous, they became fast friends and she invited him up on her stages to sing, thus helping to launch his career. The film touches on their love story, and how he left to pursue his own career, breaking her heart. The two shared an interest in poetry and social issues, as the theme in many of their songs. They continued to work together for a while, on and off. Baez wrote her famous song "Diamonds and Rust," after their breakup, which she sings in this film.
"I am a Noise" follows Joan Baez's quick rise to fame, touring the world throughout her 60-year career, but it also deals with her inner struggle from secrets in her past. Along with all the highs and lows, she has unexplained panic attacks and seeks therapy to try and uncover the reason. Throughout her life journey of many songs and relationships, she had diaries, letters, photos, audio recordings, and her own artwork, which her family kept safely in storage boxes.
Throughout "I Am a Noise," we see Joan Baez looking through these storage boxes, going over her life. It was from all this life-long material that the movie's directors, Karen O'Connor, Miri Navasky, and Maeve O'Boyle, were able to put this documentary together. It shows Baez walking out on stage at concerts to huge cheering crowds, protesting during the Civil Rights Movement and the Viet Nam War, and having different relationships including David Harris, who went to jail for being a draft dodger.
From that relationship, she had a son, Gabriel, who eventually became her drummer, but he also felt abandonment when his mother and father broke up and she was always on the road. In the movie, Baez grapples with this as well.
In much of the film, Baez is shown at the end of her 60 year career, at her home in California, swimming in her pool and taking walks with her dog. She is looking back on her amazing life, with its highs and lows. And she has at last made a kind of peace about what she has come to know through years of therapy, as possible childhood abuse from her father. This film is about her road to recovery.
Following the documentary, Joan Baez sat before the audience with Laurie Anderson on one side, and Director Karen O'Connor on the other, to discuss the movie. Baez, now 83, said she gave her last concert when she was 79.
"You have to keep training your throat muscle, which I did, with my voice coaches, but I decided to stop in 2019 just before Covid," she said.
Laurie Anderson asked how this documentary came to be made, to which Karen O'Connor said she had known Baez, and she wanted to do this film on her farewell tour.
"Joan was ready to take an unflinching look at her life, and she didn't hold back. Her life was complicated and layered, and her fiercely creative journey was worth telling, as she comes to the end of her 60 year career and starts an exciting new chapter," said O'Connor.
O'Connor added that, when her crew discovered all the historic material in Baez's storage container, "it was a landslide."
"It was really exciting—we even had her talks on the march on Washington, when she was 21," she said.
Baez said that she gave her directors the keys to her storage container and "let them do what they wanted." When Anderson asked how she liked the movie, Baez said, surprisingly, "My favorite part was when Bob Dylan and I were goofing around."
Baez said she has done a book of her "upside down drawings," and also a book of poetry, called, "I Am Pretty When I Fly."
Someone in the audience asked where people could see this film, to which David Nugent, Artistic Director of HamptonsFilm, replied that it will premiere in Manhattan on October 6, followed by limited screenings around the city, for now.