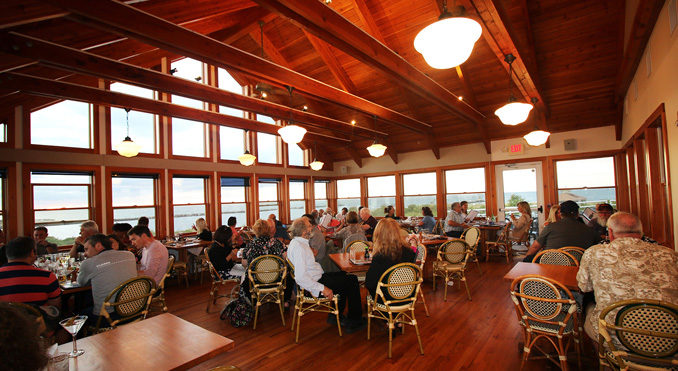 by Sue Giustino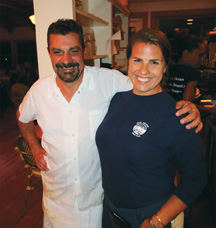 As the busy summer season winds down, one of Montauk's popular restaurants with a view continues to be in full swing. Arriving on a Tuesday evening in mid-September I was surprised at the number of people enjoy the evening sky overlooking the inlet, and a delicious meal. Not that I should be surprised, as it is a local as well as visitor favorite. But having not ever been here full-time in September I wasn't aware of how many people are around during the week.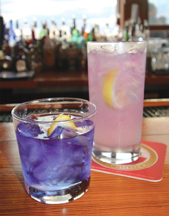 Waiting at the bar for our table, we enjoyed a few signature cocktails including the Saki-Tini and a Purple Haze, expertly prepared by our bartender Flavia. The Saki-Tini is one of my favorites; Cucumber Vodka and Saki perfectly blended and icy cold with delicate floating strips of cucumber. The Purple Haze is new, it's a layer of lemonade, topped with Butterfly Pea Blossom infused Empress Gin, and a lemon twist. Not only are they both light and delicious, they are quite lovely to look at.
Although we often eat at the bar or in the bar area, we chose to sit in the dining room. There are windows all around so every seat offers a picturesque view of the inlet and harbor. When the weather is a bit warmer, the outside decks are also available for dining. Seated at our table we checked out the menu and nightly specials, however Chef Larry sent out a number of delicious appetizers for us to start, so although everything sounded delightful, we quickly held off on our dinner choices.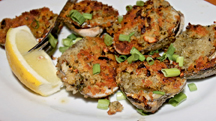 Dining with a friend who doesn't like cauliflower, the tender crispy, General Tao's Cauliflower tossed in a blended sweet/spicy sauce was his favorite! The delicious Baked Whole Clams Oreganato are whole clams topped with light crisp blend of spices and herbs.  Another baked mollusk treat is their Baked Local Oysters. Smothered with blue cheese crumbles and panko,
these whole oysters are bursting with flavor. Although I don't eat oysters, everyone else at the table loved them.
From the extensive sushi menu we enjoyed two of the special dishes recommended by our friendly waitress Emily; Fire and Ice and the Goddess Roll.  Each are freshly prepared and beautifully presented as are all of the sushi, specialty roll, and sashimi choices. Spicy Tuna wrapped in a thin slice of Fluke sitting on a bed of Yuzu Citrus Sauce makes Fire and Ice light and flavorful. The Goddess Roll is spicy scallop, avocado and jalapeno inside with yellowtail, tobiko and crunch on top- another wonderful choice.
Next was the Calamari Salad which consists of fresh, lightly fried tender calamari atop organic mixed field greens, crispy wontons, shredded carrots, cherry tomatoes & scallions with a sesame miso ginger vinaigrette. Just one of four salads offered which include Caesar, a Roasted Beets & Crumbled Blue Cheese Mixed Salad, and one of my favorite Warm Goat Cheese Ball coated in Sunflower Seeds also over organic field green, with roasted red peppers and a basil vinaigrette.
After those tasty seafood dishes, we decided to vary our main course to the highly recommended Half Long Island Duck and the Lobster Ravioli. Gently roasted to a fine crisp the Duck is served alongside grilled zucchini & roasted fingerling potatoes with a light glaze of sweet chili hoisin sauce. The five pasta's on the menu include delicious choices which include a spicy Seafood Fra Diavolo, Shrimp and Scallop Penne, and Linguini and Clam Sauce topped with whole clams. Our choice, the Lobster Ravioli is stuffed with chopped lobster meat and cheese, and served in a creamy sun-dried tomato pesto sauce. Each are finely prepared and generously portioned.
Desserts are available so be sure to check with your server. Our decadent after dinner treat was Lava Cake; a large warm, soft chocolate chip cookie with fudge lava, chocolate and vanilla ice cream and topped with whipped cream and sprinkles. It was an excellent way to satisfy the sweet tooth while sharing this generously portioned treat.
Always consistent, with a glorious view and sunset, Inlet Seafood Restaurant for lunch or dinner is always a great choice. Open until about Thanksgiving weekend, and re-opening sometime mid-February it's a perfect place to eat anytime. For further information go to http://inletseafood.com/, or call 631.668.4272.
541 East Lake Drive in Montauk