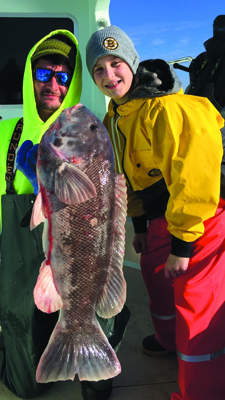 WOW! What a season! Despite the poor showing of Striped Bass for the Fall run, the bottom fishing more that picked up the slack. Porgy were just about everywhere and very large, the Black Sea Bass were equally as plentiful. The Black Sea Bass are moving farther out by Block Island now, as well as the Porgy, but the bonus is there are some nice Codfish mixed in at most of the spots. Cartwright and CIA are still producing good catches of huge Black Sea Bass, with some really good sized Cod at CIA. Over by Block Island the Apple tree and surrounding numerous rock piles are holding Blackfish, Black Sea Bass, and Cod.The Blackfishing has been very good, and even though Hermit crabs, Green Crabs, and Calico's are the preferred bait, we also caught the Blackfish on Clams fishing for Black Sea Bass. You talk about great table fare….Yum!!!!
Also over by Block you can load up on Ling too, and the same rigs you use for the Black Sea Bass and Cod will work just fine!
So keep an eye on the weather and when it's nice go cash in on some great bottom fishing, still plenty of time!!
Hope everyone had a Happy Thanksgiving and all the best to everyone for the Holiday Season!
Be Safe & Tight Lines,
631-668-5760