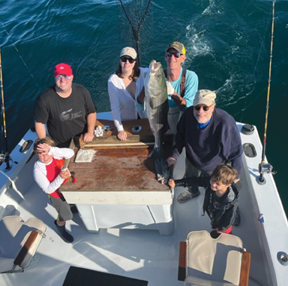 Hooray! The Fluke finally woke up & crawled out of their muddy beds. The tasty little flatties really don't like the colder water temperatures that hung around longer than usual this season, but now that it's finally warming up, they're here! The deeper locations are holding the bigger fish. Cartwright, Rocky Hill, Outer Frisby. Good action on the rips as well, you just got to weed through the shorts. Also, don't forget about the south side, town, & off Gurney's too. These fish are hungry and will be constantly on the move looking for their next meal. Remember wind and current are very critical to catching Fluke. Look for the slopes on your bottom machine that are near rock structure, then set up your drift so the wind and tide are going in similar direction. Never fish the wind against the tide!
Striped Bass hung out for an extra long time this year. As the water continues to warm up, they'll be moving to deeper water and East. The last full moon saw great action on the Elbow, Slot, & Great Eastern. Live eels were getting the job done quite well when the Flood tide was running hard.
Some diamond jig action was still to be had out on the Porgy lump. Smaller Striped Bass & Bluefish were found under the birds on both tides. You also get a surprise when a "pie plate" Porgy or "knot head" Black Sea Bass jumps on the diamond jig when you're out there.
Along with the water temperature heating up, hoards of chub mackerel have been out by outer Frisby & Rocky Hill. Offshore these little speed machines make for great shark & tuna bait! Decent sized school Tuna have been showing up outside the Butterfish hole, 6 & 8, but you have to get there early. By 8-8:30 am it's pretty much over. The sharks are plentiful because of all the bait, keep in mind though, Mako sharks are not allowed to be taken, that fishery has been shut down by NMFS for the next 2 years. Further offshore the Tuna action is heating up. Big Eye, Yellowfin, few Longfin Albacore are being caught from the Fish tails all the way to Hydrographers.
All in all this season is not looking too shabby, now that the Fluke have showed up! Safety first & be considerate when running back up through the fleet to make another drift!!
~ Tight Lines, Captain Skip
www.adiosboat.com           www.facebook.com/adios.charters