by Sue Giustino
Located in the heart of Montauk since 2018, MTK Lobster House is owned and operated by the Flores family. In July of 2020, MTK Lobster House's second location, "On the Harbor," opened its doors on Main Street in Sag Harbor, offering a menu with a few of the favorites from the Montauk location, but also an extensive array of new dishes.
Diego and Priscilla serve lobster specialties in their second-floor restaurant, overlooking Main Street Montauk through a lovely wall of windows, or an outside patio. From Lobster Bisque, to a Lobster Surf and Turf Burger, the menu includes everything lobster, plus a whole lot more.
As usual, our visit proved to be a great, casual evening, complete with good friends and great food. Thanks to our waitress Kayrie and Chef Priscilla, who made us feel welcome and did a wonderful job preparing and serving our meal. 
For 'Apps' we tried the smokey and moist BEACHIN' BAKED STUFFED CLAMS, tender and flavorful FLEXIN' THOSE MUSSELS in a delicious white wine, garlic, and shallot broth, and perfectly cooked MONTAUK CRISPY CALAMARI with shishito peppers. Although we didn't try the SEA YA QUESADILLAS- to which you can add a choice of chicken, shrimp, or lobster, or TRUFFLE LOBSTER MAC 'N CHEESE, they looked amazing as we saw them being served to another table.
Additional smaller plates include New England Clam Chowder, or the one we enjoyed, the tasty LUMP LOBSTER BISQUE. If you're in the mood for a salad, there's a lovely array from which to choose; with a choice of Chicken, Shrimp, or Lobster as an add on.
Dishes in the "From the Sea" section include; whole lobsters, a lobster boil, lobster rolls, shrimp linguine, a seafood combo platter, tacos, and fish 'n chips.  The Montauk Lobster House Boil is a tasty, fresh, and tender arrangement of a 1 ¼ lb. lobster, shrimp, mussels, clams, potatoes and sausage in a tomato-basil sauce that is bursting with flavor and perfect for dipping the accompanying toasted bread slices. Choosing the warm LIGHTHOUSE LOBSTER ROLL [although a traditional MONTAUK LOBSTER ROLL is also available], we enjoyed the abundance of fresh lobster meat and warm butter, as well as the French fries that came with it.  The 3 TACOS come with a generous portion of fish, shrimp, and/or lobster. Each taco prepared with cabbage, guacamole, Pico de Gallo, and chipotle mayo was fresh, tender, and delicious; a wonderful combination of perfectly blended toppings.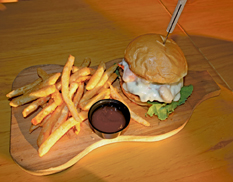 From 'Sandwiches and Burgers', we had the GOOEY LOBSTER MELT – a grilled cheese like your mother never made. Stuffed with chunks of fresh lobster meat and a combination of 3 cheeses; it's a unique feel-good sandwich. Other choices include a BLLT [ bacon, lobster, lettuce and tomato], fish or chicken sandwich, and of course the infamous MONTAUK EXCLUSIVE SURF & TURF BURGER. I didn't order it this visit, but I have in the past, and it's an absolutely perfect variation of a traditional 'surf n turf' sandwich- served on a brioche bun with chunks of lobster, lettuce, tomato, mozzarella cheese and special sauce.
The inclusive menu covers both lunch and dinner, perfect for a casual snack after the beach, or a night out with friends and/or the family- kid's meals are also available. For more information, call (631) 238-5703, or go to https://www.mtklobsterhouse.com/montauk.