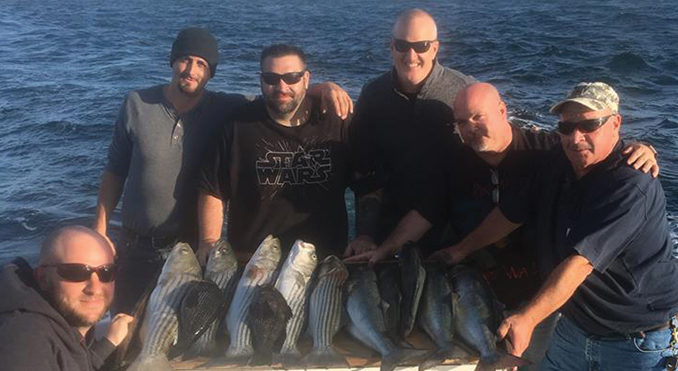 by Captain Skip Rudolph
Wind,Wind,Wind, and more Wind!! That's been the story for November. The end of October saw lots of juvenile Striped Bass by the thousands, blitzing on the surface all around the point especially by Jones' and the Pollock Rip. The action was furious and non-stop! Sure seems like a good sign, by just the sheer numbers of Striped Bass that came by, very encouraging for years to come! Anything you casted out, they ate. It was a real bonanza!
They kept heading west and are gone for now, but I'm sure we'll be seeing them again, and the good thing is they'll be Bigger!! That's the great thing about Striped Bass, they grow fast when they are young, approximately to 8-12 pounds give or take. Then the growth rate starts slowing. So when you are catching and releasing the "youngins' ", try to be extra careful, because even though Striped Bass are very durable, they are not indestructible!!
Blackfish started out with a bang, then due to the warmer water temperatures, they got a little sluggish. You really had to work for them and try to find an area that had not been "pounded" already. Going into November with the water temperature finally cooling off, Blackfishing has actually been great!
Granted, you have to play the wind and current, because that is all important, but if you can manage to get on a "good piece" of bottom it's game on!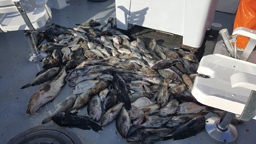 Blackfish require an immense amount of patience and a fair amount of skill, so don't get discouraged, with a little practice you will be hooking them on a regular basis. The main trick is finding a rockpile that hasn't been beat to death by other fisherman. Most good sized rockpiles will hold Blackfish and that's where the patience comes in to play. I strive to stay away from the crowds, by looking at the charts and riding around constantly looking at your fathometer, you will find some really nice pieces to fish on! You don't need to anchor up in the pack all the time, you might even do better!!
Black Sea Bass are still abundant, but have moved further offshore as they always do this time of year. Along with them have been some Codfish being caught. All the usual spots will be holding fish. The only "fly in the ointment" is the wind, and it has been relentless. Throw some easterly wind in the mix and the Dogfish can reek havoc with your rigs!! Just keep in mind going 20 miles out at this time of year requires direct attention to the weather. This I can't stress enough, because if you don't, you could get quite the beating on your way home!!
Hope everyone had a Happy Thanksgiving! We should be thankful for this 2017 season, it was action packed for sure!!
Tight Lines,
Captain Skip