by Captain Skip Rudolph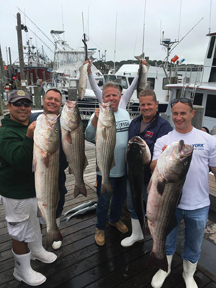 Big Fluke rallied right down to the closing of the season!Fluke season closed on September 21st, but what a run of nice fish right off the Radar on the south side in just 35 foot of water!! granted, you had to weed through the Sea Robbins, but if you persisted you were rewarded. Big Fluke were common, even up to 14 pounds. Anglers enjoyed the action right before the storm and closure. All in all it has been a good Fluke year, sure seems there is a lot more of these tasty Flatties around than led to believe.
The Striped Bass were fired up also, right before José's arrival. Both tides producing fish in more than one location. During the flood tide they were on the Elbow and the Slot. On the Ebb tide they were
around Great Eastern and the inner Elbow. Drifting live eels, trolling parachutes, umbrella rigs, and single tubes. All nice sized fish too! After these storms pass through, it could be good for the Fall run, still a lot of fish to the east of us that have to come back by, and we'll be waiting!
Black Sea Bass are stepping up to the plate next, and have been cooperating very well. Rocky Hill, Cartwright, 20 Minutes east, and Southwest ledge, all holding nice fish. Remember the limit per person is now 8 and the size limit is 15 inches. The limit of 8 per person is till October 31st, then on November 1st it goes to 10 per person still at 15 inches.
Shark fishing believe it or not is still active! A 200 pound Mako was caught on September 18th. Still plenty of time to try your luck at that, provided the water temperature doesn't plummet. Other offshore species like Tuna have been very shy, not the best year for that. Yet still some nice catches were made nevertheless. The next location for this time of year should be the Hudson Canyon, where historically the nice medium Bluefin Tuna show up, we'll keep an eye out for them!!
Keep in mind, fishing regulations are necessary nowadays. Fish are a renewable resource, not an endless resource!! The DEC have stepped up boarding boats, thanks to the poor judgement of some Captains. They check size and limits, among other things. Take your limit, or just what you need, that way you'll have fish to catch for years to come!
Tight Lines,
    Captain Skip             www.adiosboat.com