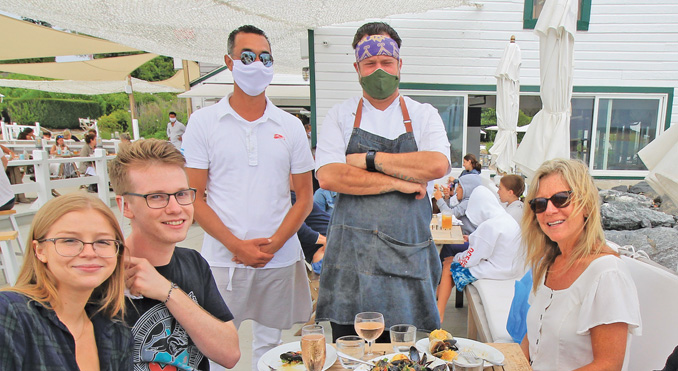 by Sue Giustino
Lobster, Raw Bar, Fish, Octopus, Clam Bake, Towers, Chowder, salads… the options encompass quite an array of unique, delicately prepared dishes- even a bit for the carnitarian. In addition to the food, there's a lovely selection of Rosé and other fine wines and beer. So if eating a light seaside fare, on a dock draped with sun sails, while overlooking the scenic Fort Pond Bay, and dining on elegant food sounds appealing, then Duryea's Lobster Deck– with a feel of St. Tropez- should be top of your list of must-do's .
Although all of the Rosé offerings are delightful, varying from flat to sparkling, the private label from Provence, France made just for Duryea's, is an exceptional choice for a fine crisp wine.  We also enjoyed the Domain OTT 2018-Provence, Fr, which is light in color, almost white and quite smooth. On the day of our visit it was a bit windy and cool for a July afternoon, so the Quinta Do Pessegueiro 2015, Douro, Portugal was another fine choice for the weather and fare. Pleasant on the palate, smooth yet a bit peppery this wine added a bit of warmth to the breezy day.
While perusing the menu, keep in mind that some of the dishes are for sharing. Adding to the waterside experience, when you finally narrow down your selection, you go to the window and order your food and beverage.  This is how the original Duryea's worked giving the feel of a rustic seaside lobster deck. However, as the food is ready, the friendly servers will deliver it to your table; our waiter, Yahia, was both pleasant and attentive. When visiting Duryea's be sure to say hi to Juliette and Hugo- they are welcoming and always around to be certain of your dining comfort
During our visit we enjoyed quite a variety of dishes, each was coked to perfection and presented beautifully, including the large Crudités Platter with an abundance of seasonal veggies and an olive tapenade and Dijon for dipping. Light, tasty, and refreshing, the White Gazpacho prepared with grapes, cucumber and apples and topped with micro greens and fresh crab was a great start. I've enjoyed many different varieties of gazpacho and this one was both creatively unique and delicious.
Next came two starters, the Tuna Tartar gently blended with avocado and cucumber, and the seared Crab Cake bursting with fresh crabmeat and swirled with a lemony dijonnaise; both equally fresh, flavorful, and satisfying. There's a choice of three towers, offering fresh seafood and shellfish arranged with dipping sauces and lemon, perched on ice to keep it perfectly chilled. Ours, the Sunset Tower was complete with local oysters, snow crab claws, jumbo shrimp, little necks, and tuna tartar, with an added lobster.  This could be a meal in itself- so sharing is recommended!
One of my favorites has always been the Duryea's Lobster Cobb Salad, and as usual it was a wonderful blend of flavors and texture.  Crisp Romaine leaves are dressed with Cherry Tomatoes, Mecox Cheddar, Bacon, Avocado, and Egg with a light Tarragon Dressing in a large beautiful wooden bowl. Topped with two generous mounds of lightly dressed Lobster Salad creating an elegant meal; as lovely to look at as it is to eat.  The Heirloom Tomato Salad with large chunks of multi-colored tomatoes with basil and a balsamic drizzle is another simple, yet delicious salad offering.
So, at this point we were quite satisfied-however, for the sake of our readers, and to continue with the house/chef recommendations, we moved on to the main courses. The day's 2lb Market Fish was a whole Branzino served with tomato, yellow squash, grilled lemon and microgreens. The gently seasoned fish was fall from the bones tender.   A Grilled 3lb Octopus with Romesco, Fennel, Sweet Drop Peppers, Pickled Onions, Chimichurri, and Balsamic was quite a hit. Tender and flavorful, this dish is a must. Finally, mussels, clam, shrimp, sausage and potatoes soaking in a lemony broth creates the aromatic and flavorful Duryea's Clam Bake.  Needless to say, we had to call in reinforcements as well as packing left-overs to go.  
Chef James 'Casey' Darenberg and the Duryea's team makes Montauk alfresco dining an experience. Right down to the sides of corn, Jasmin rice, and rosemary infused olive oil with a crusty French baguette, each dish was excellent. Chef Casey trained at the Florida Culinary Institute and has been working in Montauk since 2012. His experiences include Swallow, ENE and finally Duryea's since 2015.
Duryea's Lobster Deck is open MONDAY – FRIDAY 12pm-10pm and SATURDAY & SUNDAY 11am-10pm. Next to the Lobster Deck you will find the Duryea Market: Stop by the Market for your morning coffee, take food to go, pick up a host gift, shop high end home goods and much more. It's open 7days  8am-8pm. Location- 65 Tuthill Road, Montauk, NY 11954. For further information go to: https://www.duryealobsters.com
While on the North Fork visit Duryea's new location in Orient Point. Set in a large marina with stunning views of the water, the sea salt breeze and sunshine transport you to the Mediterranean coast. Duryea's Orient Point brings you the classic dishes made famous in Montauk and introduces you to new, Greek inspired plates to match the scenery.   http://www.duryeaop.com/.  40200 Main Rd, Orient, NY Open Monday & Wednesday-Friday 12pm-10pm Saturday and Sunday 11am-10pm