by Sue Giustino
The Montauk Yacht Club – a Montauk Icon, is one of the original Carl Fischer Properties and it still stands regal and proud welcoming boaters, hotel guests, and diners from its docks as well as through its front doors. A part of the Montauk community for almost 90 years, The Montauk Yacht Club was built in 1928 by Carl Fisher when he dreamed his dream of Montauk becoming a seaside resort for the rich and famous. Today the property includes: 107 Guest Rooms including 23 Villas and 1 Suite, as well as an Award-Winning Marina, two restaurants and lounges, meeting and event Facilities, a Spa and fitness center, Tennis Courts, a heated indoor and two outdoor pools, Sail Montauk Sailing School, Charter Fishing, Surf and Paddleboard instruction as well as other watersports and games courts, a children's Playground and game room, and complimentary bicycles or a shuttle to explore Montauk.

Welcomed by friendly, familiar faces; Brian the manager, and our waiter Constantine we immediately felt at home in the casual nautically decorated Coast Kitchen dining room. On a cool October evening, overlooking the docks with a view of crisp white sails swaying in the breeze, gently illuminated boats along the docks, and even a group of guests enjoying one of the outdoor fire pits reminded us how fortunate we are to live in Montauk through all of the seasons.

As we perused the fall and nightly Pre-Fixe dinner menus, we sipped on a bottle of local wine chosen from the complete cocktail and wine offerings. In the other room while the Yankees were fighting for a place in the World Series, patrons relaxed and socialized enjoying the roomy bar surrounded by the beautiful floor to ceiling windows.
To start, we chose the seasonal Pumpkin Bisque and Blue Point Oyster Soup, the Melon Avocado Tuna Tartar and Spicy Tamarind Chicken Wings; each generously portioned dish was fresh and delicious. Thick, seasoned with nutmeg and topped with delicate sprouts, the Bisque was a real fall treat. While the Oyster Soup offered a slightly thinner broth yet perfectly creamy and chunky with sweet corn and oysters floating in a rich flavor of rosemary and pepper. Topped with a broiled oyster in the shell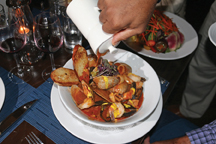 made this an elegant, tasty treat. The diced Tuna Tartar atop a layer of melon, with avocado, ginger, scallions and soy on top was perched in a bowl and adorned by delicate rice paper crisps. Finally, the crispy Yucca Tamarind Wings had an orange tang spicy/sweet flavor and were perfectly paired with a cilantro ranch dip.
The House Salad is enough to share with four, or can be a meal for one. One of the three salad offerings, this salad with watermelon radish, cucumber, tomato, carrot, onion, avocado and a

lemon vinaigrette was beautiful to look at while fresh and crisp to enjoy. Along with the salad we tried the Skirt Steak which was cooked to order and served with roasted potatoes and asparagus. The Surf and Turf is a lovely presentation of tender filet mignon surrounded by gently grilled shrimp, a crisp smoked cheddar grit cake, succotash vegetables, a fried Blue Point oyster and creamy hollandaise sauce. This fabulous combination of foods is certainly a unique take on the traditional Surf and Turf. For the diner who can't choose which type of fish to enjoy, the Montauk Cioppino may be a perfect solution. This generous combination of squid, mussels, shrimp and market fish

soaking in an aromatic tomato broth that is poured hot over the substantial bowl of seafood when presented at the table, is an excellent choice.
Our lovely evening was topped off with fresh cappuccinos and espressos along with a few tasty desserts. The signature Key Lime Pie is smooth, tart and has a buttery graham cracker crust. While the Strawberry Shortcake is layered moist cake with sweet fresh strawberries and light crème, served in a
mason jar perfectly sized after a fabulous meal. The Triple Chocolate Pumpkin Pie combines all the flavors of the fall in a buttery crisp tart, and is served with a uniquely delicious Blueberry Honey Lavender Ice Cream.
This year the Yacht Club will be open through November 25th and is even offering a mouthwatering menu for Thanksgiving.