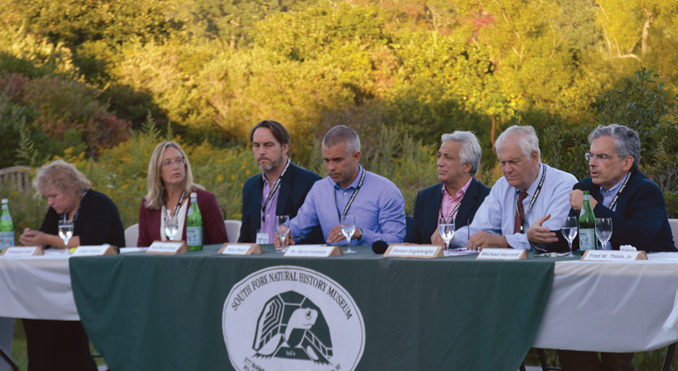 by Debbie Tuma
The South Fork Natural History Museum & Nature Center, (SoFo), of Bridgehampton, held their third annual panel discussion on Climate Change this fall, on their gorgeous back lawn overlooking their numerous acres of woods and trails. While enjoying some of the area's delicious seafood and wine, about 80 people listened to a panel of environmental experts and local politicians debate this hot issue.
The panel included Peter Boyd, Founder and CEO of The Time4Good, and an Executive Fellow at Yale University's Center for Business and the Environment; Dr. Gerry Curatola, a Cosmetic Dentist and Founder of Rejuvenation Dentistry, an author, and Associate Professor at New York University; Steven Englebright, NYS Assembly Member for the 4th District and a SoFo Board Trustee; Bridget Fleming, Suffolk County Legislator representing the Second Legislative District; Michael B. Gerrard, Andrew Sabin Professor of Professional Practice at Columbia Law School and Director of the Sabin Center for Climate Change Law; Rod Richardson, President, Grace Richardson Fund and Clean Tax Cuts Working Group Co-Founder; Fred Thiele, NYS Assemblyman representing NYS First District; and Tamson Yeh, an author and Turf and Land Management Specialist, Cornell Cooperative Extension of Suffolk County.
Andy Sabin, Founder of the non-profit South Fork Natural History Museum & Nature Center, talked about its mission, to stimulate interest in, advance knowledge of, and foster appreciation of the natural environment, with special emphasis on the unique natural history of Long Island's South Fork. Also on hand was Frank Quevedo, SoFo's Executive Director.
Fleming and Thiele talked about the East End's unique and fragile sandy aquifer, and the need to protect our drinking water from pollutants. The panel discussed the topics of wind and solar energy, and Rod Richardson talked about the importance of giving tax cuts for more efficient energy savings. He said with these tax cuts, people would be inspired to look into new technologies, for cleaner energy. Right now, a proposal for an East Hampton wind farm is being considered to help reduce energy use and costs to the town.
Dr. Gerry Curatola explained how people might not think the topic of dentistry was not suited to environmental discussions, but he was concerned about the uses of chemicals like fluoride in the water, which he feels causes more tooth decay than non-fluoride products. He has written much about this subject. Tamson Yeh talked about the need for better turf and land management, and the panel discussed the climate changes of temperature, growing seasons, the ice melts, the effects on different species, and the increase of natural disasters as earthquakes, hurricanes, fires and floods.
During the evening, guests were also invited to view "The Arctic Melt" video by acclaimed environmental fine art photographer Diane Tuft, which was playing on the grounds. After the panel discussion, guests were invited to ask questions. SoFo plans to continue this Climate Change panel in years to come.
For information on more programs at the South Fork Natural History Museum & Nature Center, located at 377 Bridgehampton Sag Harbor Turnpike in Bridgehampton, call 631-537-9735 or visit sofo@hamptons.com