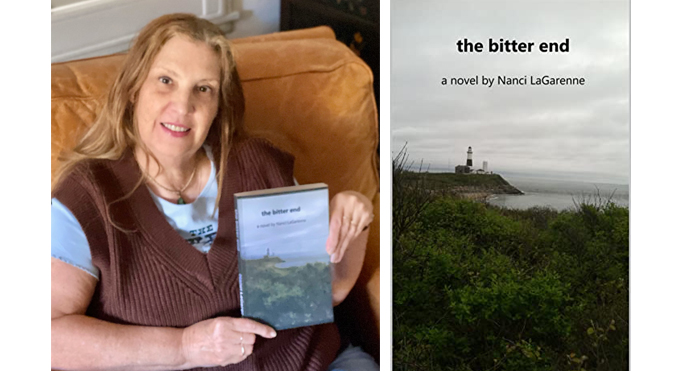 Nanci E. LaGarenne
Nancy LaGarenne lives in East Hampton with her husband Jimmy. You probably remember her from Liars Karaoke where she and Jimmy ran the Friday night sessions for years. Nanci is a contributing editor for some local Hampton papers, as well as author of Cheap Fish, Refuge, Within a Whisper, and now The Bitter End.
While speaking with Nanci, she told me that her first job was working at the Sands Motel while dating Jimmy, and she fell in love with Montauk.  And now she loves writing about it. She also said that the words of her characters are just that-their words. She tries to write from the mindset and point of view of each character, so the talking and complaining is from them, not her.
Cheap Fish, revolves around an unusual friendship that develops between a 'Salty', a 'Sporty', and a Tree-hugger who come up with an idea, and suddenly the oldest profession takes to the waters off Montauk. Their boat brothel is complete with Mermaids and one of Liars favorite bartenders as the madam. Real?  Fantasy?  A bit of both???  I think the genre for this book would be fictional realism. Could it happen? Yes! But did it??? With her engaging writing style, the author touches on some 'Montauk' issues, without taking it too seriously.
Refuge follows a diverse group of women who have left abusive marriages and childhoods behind and banded together as they create new lives with the assistance of their therapist Rain Taylor. The hard reality of the characters' abusive pasts isn't easy to read, yet Nanci tells them in such a way that the reader becomes personally involved in each woman's journey; empathizing through their trials and struggles as if they were personal friends. Although the characters are fictional, the issues these women encounter and survive are very real.
Nanci co-authors Within a Whisper, with her husband James and Caroline Upcher. It's a joint effort about the love story and rescue of their marriage.
The new sequel to Cheap Fish, The Bitter End welcomes back some characters from the first book, as well as introducing a few new interesting ones. It's a good idea to read this first one before her new book, "the bitter end", so you can get familiar with the characters and events that continue in the second.
At the end of the first book, set in 2013, the main character Dragger moves away to the Keys. Well now, six years later he's returned to find too many unwelcomed changes in Montauk, and he's trying to get reacclimated. While exploring and reconnecting with old friends like Emma, the madam of the mermaid boat from Cheap Fish, he discovers information that the locals seem to want to keep hidden- a serial murderer in Montauk.
The story is full of Montauk 'hot spots' as well as likenesses to some locals; characters may resemble people that some may think they know. However, Nanci assured me it's totally coincidental. Although, she does use some real names and a number of friends in the development of her characters.  Some of the 'real people' include Miss Melody, Little Anthony, Nancy Atlas, and Joe Delia.  Some quite familiar include Remy Malina and Moe Granola from the Granola Market in the harbor, Chief of Police Johnny Loman, and so many more you may recognize.
As the mystery unfolds, the reader travels with Dragger, Em, Wyatt [an almost retired NYC cop], and Cian [the twin of Appendage who killed herself in the last book] throughout Montauk trying to piece together who's murdering the men and leaving a 'signature' token in a flower box next to each victim. The adventure takes the reader along throughout the town visiting spots like John's Pancakes, Herbs and Whites, to the dock's encountering some of the local characters at Liars, Lynn's, Westlake, and the Dock. This past summer's Rock the Lighthouse concert is even a part of the story.
Who is murdering these men? Could it be one of the 'mermaids', a crazy serial killer targeting Montauk, a disgruntled wife, or girlfriend???  Nanci draws on the readers interest with a number of red herrings – leaving you wondering who and why this is happening. You'll have to read the story to discover the truth!
For more information on her books, visit her website:  www.nancilagarenne.com.