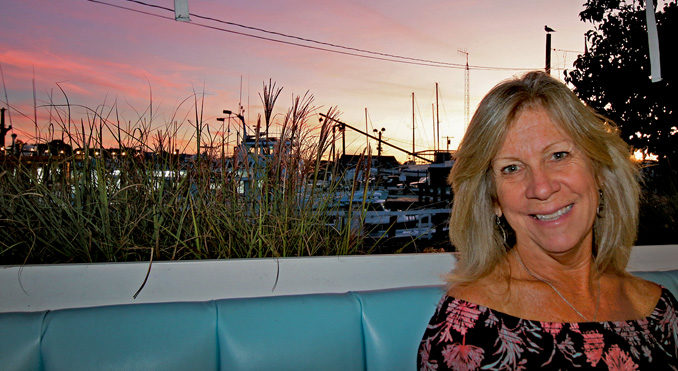 by Sue Giustino
With the change of the season, TT's Montauk becomes BB's Montauk.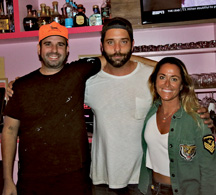 Planning on staying open year-round, BB's- 'Burgers and Bourbon'– offers a menu of smash burgers, sandwiches, snacks, soup and salad, and a few varied entrees. Partners Tony, Eric and Johnny have varied backgrounds in hospitality and restaurant business including a place they started together in Brooklyn. The concept is simple, fresh, quality food in a relaxed atmosphere where you can enjoy a meal and drinks with friends, all at a reasonable price.
With the colors of the sunset spreading through the harbor, we sat on the covered patio for our dinner. The Viking Fleet provides a great nautical view with the rest of the harbor for a backdrop. Still in the transition to BB's, the menu has a vast list of tequila including Blanco,
Reposado, Anejo, Joven, and Mescal. We enjoyed sampling a few as well as their signature margarita which was delicious. An expanded Bourbon list is in the works.
The menu is easy to navigate as small plates to share or for a full meal. A platter of TT's Tostitos & Sunday Salsa and BB's Hot Chile Chicken Wings was a great way to start our meal. With two types of chips, tortilla and yucca, the guacamole along with mango and traditional salsa was very fresh and flavorful. The crispy, hot wings were equally as delicious.
As we enjoyed the Beef Marrow Bone Broth French Onions Soup it had me thinking about the cold winter ahead. Full of flavor, chunks of brisket and melted onions, topped with a floating large crouton and gruyere, this soup is delicious. It's a perfect cool weather treat. Layered with bacon, egg,
tomato, and crumbled blue cheese, the hearty BB's Chopped Salad is a BLT without the bread.
Being the highlight of the menu, we needed to have a Grass Fed Double Cheeseburger with fries from the list of Smashburgers.  The combination of the beef and their special sauce is excellent, making it quite a tasty burger. Of course you can choose a Viking 5 Star which is a double with bacon, cheese, mac-n-cheese, and a fried egg on top! As an alternative to beef, the Impossible Burger or Impossible Chili is available as well.
Although the entrée list consists of just two choices, they are tasty. Fish and Chips is prepared with dockside catch of the day, it was Cod for us and it was excellent; tender, light, and crisp. The Steak & Shroom Frites is cooked to order, seared hanger steak with fries- also quite enjoyable. The fries are thin and crisp and a perfect accompaniment to the burgers and entrees, or as a late night snack.
Although you eat your food on paper plates and plastic utensils, it fits the vibe and casual atmosphere the owner's project. Chef Constantine did a fine job of developing this simple yet tasty menu- it's worth a try, you'll enjoy it.
BB's will be open 7 days throughout the winter [check the website in Jan/Feb for possible mid-week closing] – https://www.ttsmontauk.com/.