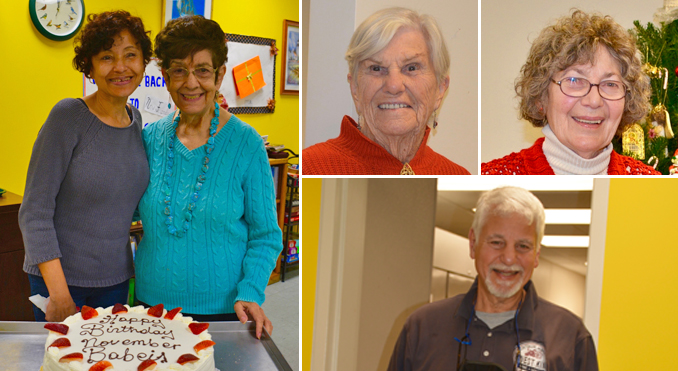 by Patria Baradi Pacis
Happy New Year! This reporter is happy to announce that after Thanksgiving, the Center hired a new cook. His name is Don Mendelson, who lives in Montauk and is known by many.  Don's love for cooking as a teenager, led him into a career with several restaurants. He also cooked for the Coast Guard for many years. Welcome to the Center, Don. It took a while but you were worth the wait.
Although the Annual 42nd Annual Holiday Dinner, hosted by the Fire House was cancelled on December 5, Montauk seniors were able to pick up their bag of goodies, including ham, turkey, gravy, stuffing, acorn squash soup, string beans, fruit salad, chocolates kisses, candy canes, red and white wine, bread, butter, homemade apple pie, and a firehouse calendar.
Kudos to the local chefs and cooks, such as Joan Franzone of Naturally Good, Ed Lightcap of Rowdy of Rowdy Hall, Sammy Joyce of Sammy's Restaurant and Sarah Newbery, Montauk Lions Club, Montauk Fire Department Ladies Auxiliary, Montauk Boys and Girl Scouts, East Hampton High School students, first responders, and friends, for making this event a success. Special thanks to all the elves who delivered the food to the homebound seniors.  It's always nice to know that Montauk's young at hearts are well cared for and appreciated.
After five months of trying to keep the Nutrition Center operational or close to normal, as in Pre-Covid days, the center was forced to close its doors again, indefinitely, on Tuesday, December 21. A new, COVID-19 Variant called, Omicron is the reason.  The Holiday Christmas Luncheon scheduled that Friday, planned by Executive Director, Therese Jarmain, with the special entrée of Prime Ribs, special desserts and individual gifts for each seniors, is postponed.
November birthdays are Maria Davis, Gladys Butler and Jean Ruggles. For the month of December, it is our hard working, Board Member and volunteer, Aster Stein.  Happy Birthday to Maria, Gladys, Jean and Aster.  May you have many, more to come.
If you are 60 and over and would like to join this energetic group, kindly contact Ms. Jermain at 631 668 1023 or e-mail her at mtksenctr@gmail.com, for further details.  Exercising and socializing is so important for all ages. Hopefully, the Center will re-open soon, so that chair yoga, tai-chi, meditation, domino games, bingo and Mahjong can resume. Stay well, be safe and keep warm!