by Patria Baradi-Pacis
For the latter part of December and the New Year, many young-at-hearts were away for the holidays to be with their families but those who remained, were treated with a special luncheon surprised entertainment by the Montauk pre-schoolers. All dressed in holiday attire the seven toddlers not only sang "We Wish You a Merry Christmas" once but twice to please the seniors.
December birthday celebrants Gail Bimson, Aster Stein and Dorothy Malik and their peers were all in a festive mood eating their apple pie a la mode with vanilla ice cream. The ladies were grateful for the mild Montauk winter they've experienced so far compared to the snow accumulations and/or tornadoes that the rest of the country was having.
If you want to stay active and meet new friends, come to the Senior Nutrition Center located at the Montauk Playhouse. For only $3.00, you will be served, a well balanced meal cooked by the recently hired Chef Luke and served by hard working volunteers on real china and silverware.
For more info on activities such as bingo, dominoes, cards, chair yoga, tai-chi, wellness talks and meditation, kindly contact Executive Director Sharon Sennerfeld at 631 668 1023 from Monday to Friday. Bus transportation will be provided for those in need.
Happy Birthday Gail, Aster and Dorothy! May 2020 be a happy and healthy one for everybody!
The 40th Annual Montauk Firehouse Luncheon for Seniors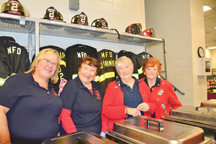 The Montauk Firehouse was transformed in red and green décor to hold its 40th Holiday Luncheon for Montauk seniors on in December. Co-sponsored by the Lions Club with the help of the Boy Scouts, students of Montauk School, East Hampton High School and Montauk Fire Department Ladies' Auxiliary, the event was a resounding success.
Newly elected President of the Lions Carmine Marino and Montauk Chief's Fire Department Dave Ryan welcomed more than 150 attendees followed by a prayer from Pastor Bill Hoffmann from Montauk Community Church. Entertainment was provided by Sarah Conway Christmas Trio who played a medley of Christmas songs and familiar tunes while couples boogied and twisted
to the music. For a treat, nonagenarian and local resident Pat DeRosa joined the band by playing his saxophone bringing back wonderful memories of the great band era. A delicious buffet lunch, lovingly prepared by Joan Franzone of Naturally Good and Ed Lightcap of Rowdy Hall, was served consisting of sliced turkey, sliced ham, stuffing, mashed potatoes, gravy, string beans and
cranberry sauce. Dessert was vanilla ice cream sundaes. Everyone had fun dancing, toasting and getting reacquainted with each other. Those who were unable to attend, had a full meal delivered to their home by volunteer elves, including 2020 Montauk calendars and candy canes.
Living in Montauk is a special place. It's that small town feeling of everyone knowing and caring for each other. If ever a local is in need, you can be sure that neighbors will rally around to help. I am sure that the young-at-heart feel loved and appreciated and are happy that their contributions to the community are not forgotten. Happy New Year to all and may 2020 be a Healthy One!