MAY BIRTHDAY CELEBRANTS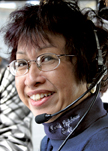 The Senior Nutrition Center is busy once again. The snowbirds are back at their summer homes, enjoying what Montauk is known for: its beautiful, white, sandy beaches and perfect, summer weather of sunny days and clear cool nights. Relatives, from near and far, have come to spend precious moments with their parents and grandparents, to show how much they are loved and missed.
Newcomers are welcome. Temporary 'goodbyes' were made from regulars who are staying longer with their children, elsewhere, or from those who are recovering from an illness or fall. Here's wishing them a speedy recovery, so they can come back to their Montauk friends and eat the delicious, home-tasting meals provided by Executive Director Therese Jarmain, cook Don, the staff and volunteers.
The young at hearts who were born in May are Nolda Vivo, who's presence was missed, Iris (Chicky) Aster, and yours truly. A scrumptious, vanilla, strawberry, birthday cake decorated with red, white and blue roses was shared to commemorate Memorial Day, honoring those who died in service for our nation so that we can all enjoy the freedoms that we have today.
The Center is open for lunch on Monday to Friday from 11:00a.m. to 1:00p.m. At noon, for only $3, you will be served a full, well balanced, meal on china and silverware with desserts to die for. There is also Chair Yoga with Ms. Tsuyumi on Mondays and Fridays at 10:45a.m., a Healing Circle hour with Nurse Margaret on Tuesdays which include, meditation, yoga, reiki and tai-chi for better balance, Mahjong on Wednesdays, Bingo on Thursdays and Dominoes on Fridays, after lunch or at 1:00p.m. Playing cards, jigsaw puzzles, books and magazines are available. Transportation is provided on Tuesdays, Thursdays and Fridays.
If you are 60 years and over, and would like to join this lively group, kindly call Ms. Jarmain at least 24 hours in advance at 631-668-1023 or email her at mtksencenter@gmail.com so we can reserve a place for you. You can also bring a friend or your caregiver.
Here's wishing everyone a Happy 4th of July and a great summer!