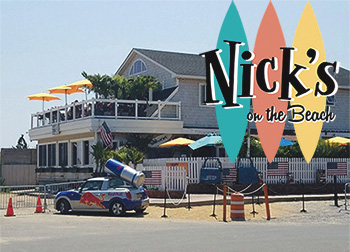 Nick's on the Beach is opening Memorial Day Weekend in Montauk, NY. Bringing back good food, good vibes, and good fun, the restaurant has health department safety protocols in place, a management team dedicated to preserving Nick's beach, and a grab and go menu to keep the flow from the kitchen out to socially distanced customers – easy and efficient. Details about COVID 19 compliance and safety measures can be found at www.nicksonthebeachmtk.com
      According to Jeff Capri, who manages the venue "we're keeping the menu simple, and have window service in place from two sides of the building, with lots of distance markers. We love Montauk and are working hard to keep our operations safe and keep Nick's Beach clean." Free masks will be available. Nick's plans to open at 11:30 am daily and will stay open during the evening. Hours can be found on the website and will be updated as the season evolves.
To kick off the season, the restaurant's management team is donating $10,000 to the Montauk Food Pantry. Additionally, there will be an opportunity for anyone purchasing food or beverages from Nick's to make a donation to the pantry – and all donations will be matched up to an additional $10,000. (Raising a potential $30,000 for the Montauk Food Pantry.)
"Wow!" Said Alice Houseknecht, the director of the Montauk Food Pantry. "I continue to be moved by the generosity
of our community. "The number of families we serve has tripled, this really assist people who need help."
With quesadillas and burgers to wraps and lobster rolls, Nick's is also offering frozen specialty BBC (Banana Baileys Colada) The Froze (frozen Rose) Lava Flow and Miami Vice as well as mini-wine bottles paired with charcuterie platters. There will also be a variety of fresh scooped ice creams and root beer floats! Nick's, the Hampton's only oceanfront restaurant, is ready to re-establish itself as a favorite.
About Nick's on the Beach: Located at 148 S Emerson Ave, Montauk, Nick's on the Beach serves casual American food, drinks, and cocktails. Opening season 2020 with a limited menu that will evolve as the state reopens, Nick's is a popular beachfront bar and restaurant in Montauk that's taking a leadership position to #RespectNicksBeach with added attention to trash pick up and more.
www.nicksonthebeachmtk.com
Please contact: info@nicksonthebeachmtk.com for more information.