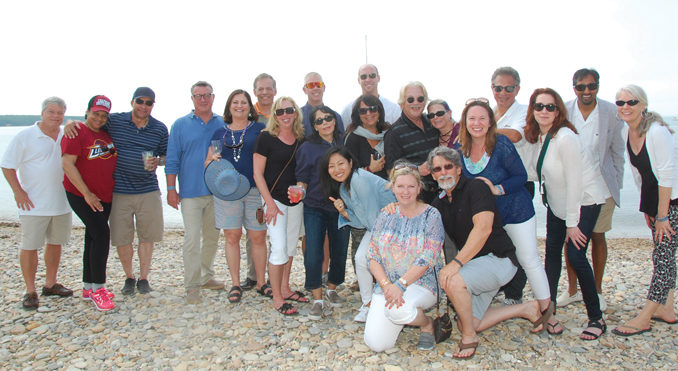 …photos by Stephanie Lewin…
Navy Beach is honoring Montauk's Naval history and continuing its support of the Navy SEAL Foundation to help raise awareness and funds with the sixth annual fundraiser for the organization. The Navy SEAL Foundation provides immediate and ongoing support and assistance to the Naval Special Warfare community and its families. On Saturday, June 16th from 3–5 p.m., Navy Beach will host a cocktail party to benefit the Navy SEAL Foundation. The cocktail party will be the official kick-off to a sixth season of fundraising efforts at the restaurant. This year's remarks will be provided by Rear Admiral Tom W. Steffens, US Navy (Ret) (SEAL), who served 34 years as a Navy SEAL. In fact, Steffens learned to swim on Long Island and gained his love for the ocean riding waves at Jones Beach.
The event will feature cocktails and snacks from signature Navy Beach favorite menu items. In addition, guests will be able to bid on silent auction items and purchase raffle tickets for several prizes. The cost to attend the event is $50 per adult, $25 for veterans, and free for children under 16 (at the door). Following the event on June 16th, the restaurant will be open for regular dinner service beginning at 5:30 p.m., and reservations are recommended. For those who prefer to purchase their tickets at the door, kindly RSVP for the cocktail party to nsf@navybeach.com.
Navy Beach will continue its support of the Navy SEAL Foundation throughout the 2018 season, enabling guests to support the cause directly each time they dine at the restaurant. From Memorial Day weekend through Labor Day, a donation of $1 will be added to each dining check in support of the Navy SEAL Foundation. Guests will also be able to increase the value of the donation if they like. In an effort to improve upon the $30,000 raised for the Foundation last year ($125,000 since 2013), Navy Beach will again match the first $2,500 raised through this season's efforts. Donations may also be online at https://www.navybeach.com/ events/help-navy-beach-support-the-navy-seal-foundation/ .
"Navy Beach is incredibly proud to host our sixth annual fundraiser for the Navy SEAL Foundation. We remain humbled by the service that the SEALs and their families make on behalf of our country, and feel fortunate to raise funds and awareness of the Foundation's core mission. Our area's historic Naval past, Naval base location and tremendous support of the Montauk community and Long Island veterans afford us great pride in our ongoing efforts," said Navy Beach partner, Frank Davis. "Going into their sixth straight year of support to the men and women of the Naval Special Warfare community, the Hamptons' Navy Beach Montauk restaurant is at it again hosting the Navy SEAL Foundation's premiere fundraising event on the East End of Long Island," said Marc Wolf, Director of Development, New York Region, Navy SEAL Foundation.
The Navy SEAL Foundation's mission is to provide immediate and ongoing support and assistance to the Naval Special Warfare (NSW) community and its families. U.S. Navy SEALs have been in sustained combat for over 17 years, performing hazardous work in unforgiving environments at an unrelenting pace. SEALs are currently deployed in over 35 countries across the globe and spend up to 270 days each year in harm's way. The Navy SEAL Foundation stands behind these warriors and their families by delivering comprehensive, world-class programs that specifically address the community's unique needs. Like the community it serves, the Foundation is a solid, high performing organization committed to excellence. 94 cents of every dollar donated goes directly to current or future programs. This year the Navy SEAL Foundation received its 7th consecutive 4-star rating from Charity Navigator, a top charity watchdog, for sound fiscal management and commitment to accountability and transparency (top .6% of all rated charities). The Navy SEAL Foundation is a 501c3 national non-profit charitable organization TAX-ID 31-1728910 CFC# 11454. The Navy SEAL Foundation is a non-federal entity. It is not a part of the Department of Defense or any of its components and it has no governmental status. To learn more visit navySEALfoundation.org or visit facebook.com/navySEALfoundation.
Raised in New Jersey and educated in New York City, Steffens was commissioned in 1969 through the Naval Reserve Officer Training Corps program at Holy Cross College. Following Basic SEAL training in 1969 Steffens, who is also a qualified SEAL mini-sub pilot, served 13 years in a variety of Underwater Demolition and SEAL Teams including an exchange tour with the British Special Boat Service. From August 1983 to January 1985, Steffens was director of BUD/S Training (Basic SEAL Training) in Coronado, Calif., and expanded the curriculum from six to 27 courses.
At the direction of the Secretary of the Navy, he transitioned the training into the establishment of the Naval Special Warfare Center for Excellence. He subsequently served as commanding officer of SEAL Delivery Vehicle Team 2, completing the operational deployment of the Submarine/Dry Deck Shelter/SEAL Delivery Vehicle System, for which the command received the Navy Unit Commendation.
Following staff tours as the chief staff officer at Naval Special Warfare Group 2 and as the director of the Naval Special Warfare Division on the Navy staff, Steffens commanded Special Boat Squadron 2, as it became both an Echelon III and major command.
During this tour, he orchestrated the delivery and deployment of the Navy's newest commissioned ships, the Cyclone-class Patrol Coastal ships, which are key elements of the Homeland Security Maritime Force.
As a SEAL Flag Officer, Admiral Steffens commanded the Special Operations Command Atlantic (Norfolk), served as the first head of The SPECOPS Center for Intelligence and Information Operations, and was the Chief of Staff at the United States Special Operations Command in Tampa. Following the events of 911, the Chief of Naval Operations stopped Steffens retirement and retained him on active duty to become the head of the Navy's Anti-Terrorism and Force Protection efforts. He resides today in Virginia Beach with his amazingly patient wife Ellie who has been with him for all their years of service.
Montauks Favorite Beachfront Restaurant is the brainchild of partners Frank & Kristina Davis, Franklin Ferguson, Leyla Marchetto and Martin Cabrera, Navy Beach splashed on the Montauk restaurant scene in 2010. "One of the most buzzed about new restaurants and bars in Montauk," Navy Beach was dubbed a "perfect destination for summer dining" by The New York Times. Navy Beach is a laid-back, family-friendly waterfront restaurant offering a memorable dining experience for the whole family in a beach setting with coastal food and the best sunsets in the Hamptons. The kitchen delivers a high quality fish centric menu with an emphasis on sustainable seafood and local seasonal produce. Navy Beach is all about location, positioned on a 200-foot private beach in Montauk, Newsday named it on of the top five water-view dining spots on the East End. Navy Beach is open for lunch and dinner daily in season.
16 Navy Road, Montauk, NY, 11954
www.navybeach.com        631- 668-6868