…by Sue Giustino…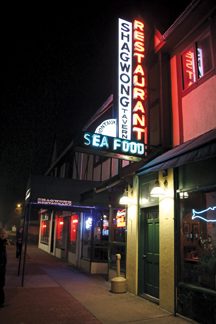 Shagwong Tavern — a Montauk icon that continues to be the go-to place where locals and visitors are transformed to a time when Montauk was simpler…relaxed…to when there was an ease and acceptance as long as the 'airs' were left at the door. Looking for an afternoon snack, a fine dinner, or evening cocktails and music Shagwong offers it all!
This season along with the ever present nostalgia, brings a new chef and a facelift for the garden. Taking a moment from the hustle of festival preparations we ventured out on a Monday night to meet with and enjoy the creations of Chef Patrick Fromm.
Originally from Bridgeport, Conn. Patrick is a graduate of E. Hampton High School. He's self-taught, yet he credits much of his style to the talented chefs he worked with when he started out. Chef Fromm's experience includes kitchens from NY to Miami, as well as an impressive repertoire of restaurants on the east end, including Pacific East in Amagansett. Patrick told us that he's happy to be here and that he wants to 'bring Shagwong back' by offering local farm to table- clean and fresh-quality dishes while supporting local farmers and fishers.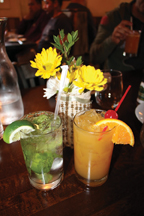 Having only been at Shag for a week, the chef's new menu was still being finalized, yet the quality of the food he presented to us was impressive. I'm looking forward to seeing which dishes make the final cut. After a sampling of Hollywood's smooth creative libations: the Hurricane, Shag Sour, and classic Mojito, we enjoyed wine from Captain Behan's "Captains Reserve' wine list. Be sure to ask what's available.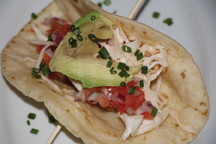 For starters we had an array of fresh fish creations. Caught earlier in the day, the Local Fluke Crudo atop a bed of avocado and dressed with fresh arugula, micro greens and aioli was perfect. As was, the smoked salmon with crème fresh, red onion, chives and crispy capers on toasted begets. The evening tacos were something I've never had, and I'm now a fan. Clam Belly Tacos; clams lightly fried to crisp inside a soft shell with coleslaw, avocado and tomato. Patrick calls these a twist on a Baja Taco which will also be available in season with fresh grilled fish. Although my favorite was the lumpy pan seared Crab Cake, lightly spiced to compliment the fresh crab. It was so light and filler free, just incredible.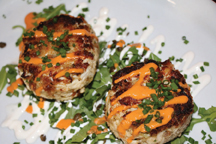 Presentation being such an essential part of the dining experience, each dish was picture perfect, especially the Seafood Tower. Created in honor of Montauk Fisherman, this Plateau Royal includes lobster, clams, local wild oysters, and shrimp all chilled on a bed of ice and served with a spicy aioli, minuet cocktail and special mayo. Everything was fresh, perfectly chilled and ready to be dipped in the side sauces.
Jason Behan, one of the owners, born and raised in Montauk is committed to preserving and honoring the hard working Mtk fishermen as well as its history. Fulfilling this commitment, along with the many fish dishes and the Plateau Royal, weekly fish specials will be available depending on what's running that week. He also introduced the Tomahawk Steak Dinner in honor of Teddy Roosevelt and the 1st Cattle Ranch in America, the Deep Hollow Ranch.
The Tomahawk is grass fed and dry aged for 28 days before being hand selected at the peak of flavor tenderness. Shagwong is the only restaurant in Montauk offering these steaks from New York Prime Beef. They are cooked to order, prepared either Cajun or grilled, and served with a selection of sides; we enjoyed grilled asparagus and an arugula salad. Weighing in at 36oz this is a perfect meal for two people to share and it's the best around.
Along with the turf, we had a little surf. Blackened Sword fish with a horseradish crème, was grilled crispy outside yet tender, light and moist on a bed of spinach. This made a lovely surf n turf pairing that was absolutely delicious.
Not to be outdone, Jason's mom Marilyn Beehan is the Dessert Chef for the restaurant. Her homemade assortment of cakes and pies are phenomenal. We enjoyed the Chocolate Grenache and Carrot Cake, both moist and delicious! Ask about the evenings selections.
After sampling so many wonderful plates, I'm confident Chef Fromm will be successful. Stop by say hi, and check out the new menu. Also, look for upcoming pairing/tasting dinners and nightly specials.