by Sue Giustino
Rested and ready for the 2022 season, Chef Larry Wallace and his staff at the Inlet Seafood Restaurant are off to a good start.   As we joined them at the bar for dinner and sunset on their opening day, the food, company, and scenery did not disappoint.
From their boats to your table…that's what the Inlet Seafood offers at their picturesque location perched above the dunes overlooking the Montauk Inlet. It's somewhat like being in a glass enclosed tree-house perched above the Montauk Jetty, both the view and the food are memorable. From freshly prepared Sushi to numerous appetizers and main dishes consisting of choices from land and sea we can always count on the consistency of flavor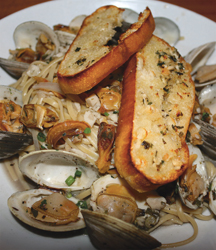 and quality. Being owned and operated by a fishing family, the Inlet always offers fresh local catch brought in through the dock on property. Chef Larry, a master of culinary composition, continues to prepare his specialties; utilizing the fresh daily catch of their boats.
This season, as usual, the menu offers a wonderful array of fresh fish, sushi, shellfish, and pasta, as well as salads and meals from the land. Although we all have menu favorites, the nightly specials offer something different and are always tasty. We had the sauteed filet bites that were in an amazing light sauce, and the portabella mushroom and shrimp. Both appetizers were tender, full of fresh flavors, and spectacular! Another tasty special was the short rib dinner, in a light brown gravy. Thanks Chef for yet another great meal.
Be sure to head over for a meal, and maybe even a sunset.
For now they open Friday, Saturday, and Sunday- please go to their website  https://www.inletseafood.com/ for additional days open as they expand their hours throughout the month.