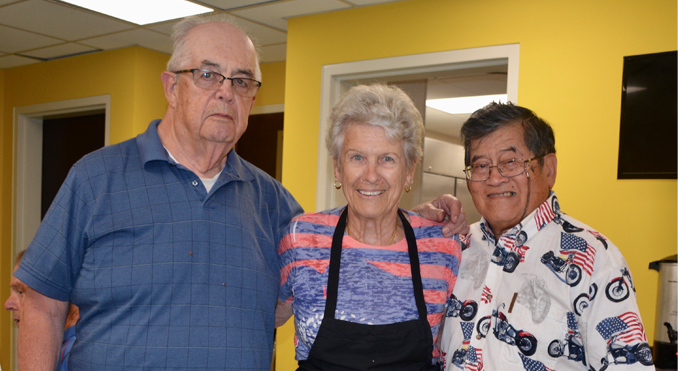 JULY BIRTHDAY CELEBRANTS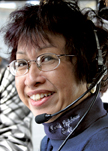 2022 was the best summer weather that I can remember in the 26 years since my husband and I moved to Montauk. We had lots of sunny days and clear nights. When it rained, it rained at night or early morning.  Although we had some hot and muggy, consecutive 90 degree days, the ocean breeze helped us cool down at least 10 degrees, compared to other cities reaching 100 plus with no breeze.
July birthday celebrants were William Schmidt, volunteer Iris Mitchell and my husband, Camilo Pacis. It was good to have the Montauk Grucci fireworks back to help celebrate Iris and Cam's birthdays, which happen to fall on July 4th.  At the end of each month the seniors are treated to a huge, strawberry or carrot cake, sang to, and have their pictures taken to put in an album for keepsake and to show how much the Montauk seniors are appreciated.
With COVID-19 under control, more and more seniors, their caregivers or guests, are coming to the center to eat the delicious, well balanced meals. Thanks to the guidance of Executive Director Therese Jarmain, the young at hearts are well fed and happy.  There is nowhere else in town that can beat the $3.00 price that includes salad, main entrees of Breaded Cod, Pulled Pork, Parmesan Crusted Chicken Thighs or Stuffed Peppers, AND scrumptious, deserts of ice cream, chocolate pudding with whip cream, brownies or fresh fruits. Lunch, nicely presented and served on fine china and silverware, in a cheerful and air conditioned room, with soft music to eat by, is very hard to resist.
If you are 60 years old and over and want to join this fun and loving group, come on over. The Center is located at the Montauk Playhouse at 240 Edgemere Street, and is open Monday through Friday, from 11:00 a.m – 2:00 p.m.  There are lots of activities during the week such as Wellness and Balance class, a once a month blood pressure check-up, Mahjong, Bingo, and Dominoes. Free transportation is available on Tuesdays, Thursdays and Fridays.
Currently, the Center is looking for a chair yoga instructor. Tsuyumi, you are truly missed.  For more information, kindly contact Ms. Jarmain at 631.668.1023 or e-mail her at mtksenctr@gmail.com.
Happy Birthday July babies and Happy Labor Day to all!