by Debbie Tuma
Driving up the small winding road to Bennett Shellfish in Montauk, you get a sense of its nautical and rural flavor before you even arrive at this quaint destination. There is a nice yard with a big ship's wheel in blue lights, near a whimsical wishing well with flowers. There's a fire pit surrounded by benches, handmade from huge tree trunks. Walking up the pebble driveway, you come to what looks like a sea shack, and inside, is a large white counter where Kim Esperian greets her seafood-loving customers every day.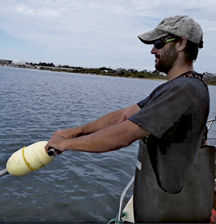 Her partner, Clint Bennett, is a 14th generation bay man who grew up in East Hampton, and has been clamming and fishing most of his life. His family is part of a community of bay men in the hamlet of Springs, who made their living haul seining with nets, until this way of life became harder and harder to do. Now, Bennett goes out in his 20-foot boat and searches the bays of Montauk for clams, mussels, oysters and scallops. In the colder winter months, he sometimes hops aboard Montauk's commercial fishing boats which go out for weeks at a time to get fish. He provides the seafood for Bennett Shellfish, and together, he and Kim have been selling their catches to the public for seven years.
"It's great because we both get to do what we love," said Bennett. "I love clamming and fishing, and I know all the great spots since I've lived here all my life. And Kim likes to meet all the people who stop by our shop, and she also makes much of the seafood we sell, like the stuffed clams, clam chowder, and most recently, the clam pies, which are a sellout."
He said one popular item is the tuna, and he and Kim are teaching people how to make their own Sushi, by showing them how to cut the fish.  "Our business is water to table," said Esperian who has had a long food background, working first in New Jersey, as owner of "My Hero" sandwich and ice cream shop, and then creating the Beach Bakery at the former Gurney's Inn in Montauk. She worked with former Gurney's baker Billy Bertha to make the famous cakes and pies which were sold all over Long Island. Starting their own business in 2016, Kim and Clint joined with Bertha to sell both seafood and baked goods.
Bennett's Seafood also carries delicious homemade cakes and pies, which go quickly during the holidays. They make about 10 kinds of cakes, for all occasions, including….. Montauk Mud, Carrot Cake. Chocolate Truffle Cake, and even wedding cakes. They have an assortment of pies, including Key Lime, and holiday pies like pumpkin, pecan and apple.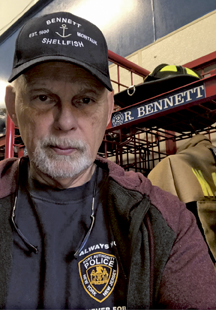 Although she loves selling the fish and shellfish, Kim gets a kick out of her customers, who come from all over the country and also the world, due to Montauk's growing popularity. They enjoy hearing about the long line of Bennett history. She and Clint have also made up some memories for them to take home, in the way of Navy blue "Bennett Shellfish" T-shirts, hoodies and hats.
"We wanted them to have a souvenir of Montauk," she said. "Over the years, our customers have sent us photos of them, their kids, and relatives, wearing Bennett Shellfish T-shirts and hats," from all over the world. We have a whole wall of photos now, which people love to look at, and some of these customers have become our friends. They keep coming back."
2 South Debusy Road, Montauk, NY  ▪  631.903.5817 www.facebook.com/BennettShellfish/