by Debbie Tuma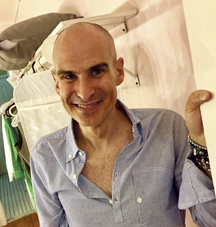 For those of you who remember the well-known voice of Walker Vreeland, former 102.5 WBAZ-FM Radio personality, he became even more entertaining when he took the stage in his new performance at Bay Street Theater in Sag Harbor. Vreeland wrote and performed his autobiographical monologue, "From Ship to Shape," on June 10.
As the sole actor in this hour and a half-long monologue, he took the packed audience on a wild ride through the turbulent journey of his younger years, starting out as a singer on a cruise ship. At least that's what he thought he would be doing, when it turned out that he had to spend more time going to safety drills on the cruise ship than actually rehearsing the lines he was supposed to learn in only a short time. And it also turned out that the job entailed dancing rather than singing, and dancing was not he forte.
While sitting, standing, and talking to the audience, Vreeland described his struggle to overcome his insecurities, in becoming a singer and also an actor. He also described the pain of having to depend on antidepressants and medications which were not so available on the ship. And the frustration of being trapped on a ship where his dreams were not taking him to the career and future he wanted.
When he finally quits the ship and goes back to Brooklyn to pursue cabaret and theater, he lets us share in his journey of finding himself, trying to overcome his fears of "not being good enough" to achieve success as an actor, writer and producer.
"At that time, I wasn't strong enough to put myself in certain social situations, so I took medications to get me through…At the time I couldn't see this, and it was self destructive," Vreeland explained. "I was experiencing highs and lows and going through downward spirals. I was afraid to lose control."
Walker Vreeland is a natural born storyteller, and throughout this performance he never missed a beat—great timing and deliverance, sharing the ups and downs of his life. The audience at Bay Street Theater seemed captivated throughout this show, as Vreeland bared his soul and his emotions, as he talked openly and honestly about his bouts with mental illness, his struggle to find love, and his contentious relationship with his mother, and how, she would always be there to support him in the end, anyway. Although many creative people wrestle with these same issues of not being good enough, it seemed that the audience of people from all walks of life at this show, could also relate to much of Vreeland's inner struggles.
He connected with the audience in a powerful way during this production, and at times you could hear a pin drop. At other moments, Vreeland's wry, dark humor made people laugh out loud, because they could see themselves in his predicaments, and observations about life, and himself. When asked, later, why he wanted to go public with these personal struggles, and mental illness, Vreeland explained that it helps him to heal.
"I do it because I don't have a choice—this is part of who I am," he said. "I try to read the reaction from the audience, and when I feel them connect, I feel less alone, and I also feel the other people are also grateful. I am never sorry when this happens."
Vreeland said mental illness is "something a lot of people can relate to…if I can make someone feel less alone, this is something you can't put a price on." He said after playing a younger, more troubled person on the cruise ship in the beginning of the show, at the end of his show "I am much healthier now."
He also credited his director, Milton Justice, for helping him to perform this long and intense monologue in the best possible way.
"Milton is a great director, and I couldn't have done it without him," said Vreeland, who entertained the auidence throughout the show by sitting on the stage, by standing on a chair, and by moving around the stage, which had just a large, elaborate red curtain, and a piano, with music director Bryan Blaskie accompanying him.
Although this Bay Street Theater performance of "From Ship to Shape" was only for one night, Vreeland said he will be taking it to New York City this fall at a small venue. Vreeland has also been seen in New York and regional theaters, and in movies and TV. He also hosted the podcast "Interview With the Artist" show, where he interviewed many celebrities.
For more information about Walker Vreeland's future shows, visit www.fromshiptoshape.com