After some interesting hoop jumping, the show did go on. The 2020 concert had been cancelled due to Covid 19, and while planning for the rescheduled 2021 show, we were constantly following NYS and CDC guidelines for large outdoor events.
Chronologically, it went something like this: 1. Only 400 attendees would be allowed and checking for proof of vaccination or neg. covid test required. 2. 800 attendees as long as the groups could be 6 ft. apart and checking for proof of vaccination or neg. covid test. 3. Vaccinated and unvaccinated sections, and checking for proof of vaccination or neg. covid test.  4. Full attendance- no restrictions. 5. New variant- uptick of numbers, still no new guidelines, but committee agrees to go with all wearing masks while not seated. And two days before; 5. Here comes Henri!!!
Yet, the show went on, and what a show it was! As the night progressed and the natural amphitheater filled in with eager concert enthusiasts, we all breathed a sigh of relief that the storm had moved off shore and Montauk wouldn't feel the effects until Sunday. The night began with Hopefully Forgiven lighting up the stage, followed by The Montauk Project showcasing some of their southern rock flair. The rolling fog added a certain eeriness to the night, as the full moon emerged, shining through the clouds over the lighthouse. Cheers erupted to any mention of hurricane Henri– the audience could tell that we were just a few steps ahead of the storm and they were loving the chase!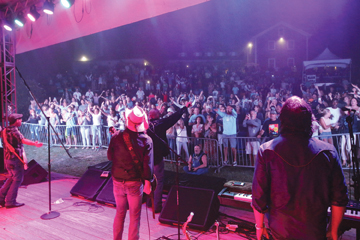 After some introductions, and words from our band sponsor, 'SOHOJOHNNY', The Marshall Tucker Band took the stage. Some of us were brought back to memories of our youth, or even to our first concert.  While others were experiencing the iconic group for the first time.
Dancing, cheering, and song reverberated on and around our historic lighthouse, and through the foggy moonlit night. What a wonderful ending for the concert that almost wasn't.
Many thanks to the Montauk Historical Society and our Sponsors, without whom we could not produce this unique event. As well as to our amazing volunteers, family, and friends, who also worked to help make the evening a huge success. The NYFD Marine 1 team volunteers donated their time, working hard at the beer/wine/ soda table- many thanks. Important to note, that in addition to their time, they donated their tips- over $1,600- to the Montauk Food Pantry!
PHOTOGRAPHY by BILLY HESS