by Sue Giustino
Slightly Hidden…But Worth Finding!
Thirteen years ago Freida and Skip Reichert had a dream to open a delicious restaurant at their Diamond Cove Marina incorporating her Mexican heritage family secret recipes and Skip's seafood and BBQ talents. The result is what used to be the best kept secret in Montauk. A casual dining experience offering in or outdoor seating, and fine freshly prepared snacks and meals; all prepared daily and whenever possible with fresh local ingredients.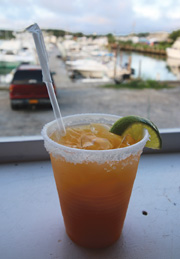 All day long you'll find people enjoying the view and their delicious fair and libations. With more kinds of tequila than you can count, the killer drinks [especially Sushil's special margaritas] are an added bonus to the fresh homemade dishes.
Consistency in flavor and freshness is the key to this casual waterfront restaurant with a friendly atmosphere. We have been fans for years and always enjoy introducing the Hideaway to friends. This visit, with my sister from NYC, was perfect as usual.  As we picked on the Fresh Salsa and Guacamole with chips, Shushil got us started with a Tequila Punch and Jalapeno Watermelon Margaritas.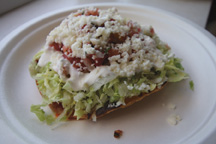 Daily specials can usually be found on the board, this evening there was Pork al Pastor Tostada or Chicken Tinga Gordita's. The Tostada, are prepared with Pork al Pastor- which is pork cooked with dried chilies and pineapple, then topped with shredded lettuce, pico de gallo, crema, and queso fresco. The flavor contrast of the sweet fruit with the pork and chili makes this a unique and refreshing dish. A Gordita is corn and black bean masa lightly grilled, stuffed with the Chicken Tinga [shredded chicken in a tomato and chile chipotle sauce] and then flash fried. They are such a wonderful summer treat, the hot chicken pocket with a cool salad and avocado was just perfect. Speaking of perfection, The Mexican Corn on the cob smothered with spices, chipotle aioli and Cotija cheese is one of the house favorites- others try to replicate, but it's yet to be done.
Next was a pair of Mahi Mahi Tacos [also available with shrimp] with pan seared fish topped with shredded cabbage and a special chipotle aioli.  Another choice is three corn tortilla Tacos with either steak, chorizo, beef brisket, pulled pork, chicken, pork, chicken Tinga, or grilled vegetables. All are served with pico de gallo and chips. We've enjoyed many varieties and they are always a perfect blend of flavor and texture.
From time to time we stray from the traditional Mexican favorites, and the back of the menu offers wonderful alternatives. From the seafood choices we had the Steamed peel and eat Shrimp with old bay spice; a pound of good sized, spicy shrimp which were tender and wonderfully flavorful. We also enjoyed Skip's St. Louis Style Ribs from the Barbeque selections. These fall off the bone ribs are served dry rubbed and so tender and full of flavor that, although it's available, no extra sauce is needed. The ribs are served with coleslaw and potato salad; fresh and tasty accompaniments.
Another special was fried Stuffed Plantains with a choice of bean or cheese. These were naturally sweet with a soft inside and a light crispy outer layer. Good as a side dish, or plain fried plantains can also be a dessert, although there are traditional Mexican desserts made on premises as well. Having a choice of Flan, Tres Leches Cake, or Churros, we chose the last two. Freda informed us that the Churros were actually from the French.  She explained that after a brief invasion of Mexico by the French, Mexicans adopted many French influenced desserts. "The French left, but the pastry stayed." She commented. In addition to the warm Churros, which were sprinkled with cinnamon sugar and quite delicious, we also enjoyed the Tres Leches Cake. Literally meaning to be prepared with three milks, this soft, light, moist cake is made with a blend of evaporated, condensed, and cow milk.
Every dish is bursting with flavor but not spicy. According to Freda, true Mexican food isn't always prepared spicy, so the meal comes with sauces ranging from mild to flaming, but on the side. This way each diner can accommodate their individual taste and heat tolerance. Although, I like some of my food a little spicy, these dishes can stand alone, full of flavor and freshness.
In addition to our selections, the menu varies from the traditional Mexican dishes like Flautas, Alambres, Enchiladas, Burritos, Quesadillas, Tamales, Nachos, and Stuffed Jalapeno Peppers, to Steamed or grilled Seafood, hamburgers, Barbequed Beef Brisket, Pulled Pork, and Chicken. Fun, delicious, casual, and friendly- The Hideaway is sure to satisfy everyone's tastes. If you haven't been to the Hideaway at the Diamond Cove Marina then you really haven't experienced all that Montauk has to offer.
Get directions and additional info at http://www.thehideawaymontauk.com/