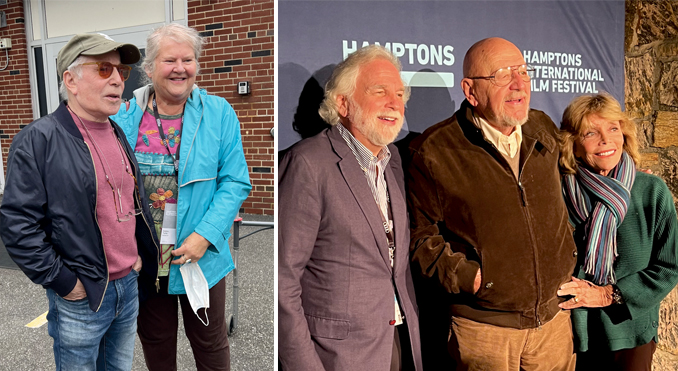 by Debbie Tuma      photos by Regina Jacina
Back in the mid- 1960's when I was at East Hampton High School, and Simon and Garfunkel had burst into fame, never did I think I would one day be talking to Paul Simon right there, over 50 years later.
He was on the stage of what is now the East Hampton Middle School, looking back on his 70-year career, the morning after a new 4-hour movie, "In Restless Dreams, The Music of Paul Simon," premiered at the 31st Hamptons International Film Festival in October.
At 82, Simon still has his boyish looks, and wearing an orange shirt and jeans, he sat down to be interviewed by David Fear of Rolling Stone Magazine. He talked about how he started his music career alongside his best friend, Art Garfunkel, when they grew up together in Queens. He answered questions about his new movie, which was shown the previous night in the same auditorium.
The school auditorium was packed for the movie the night before, on Friday, as we watched, on the big screen, how Simon and Garfunkel met as young boys growing up in Queens, and attended Forest Hills High School. They started singing together by the names Tom and Jerry, and had some success, and a few records. Then when they formed their classic duo "Simon and Garfunkel," they produced their best work with hit songs for about 5 years. But Art Garfunkel also had another interest—getting into movies as an actor. At one point he left to do some movies, including "Catch 22" and "Carnal Knowledge," and eventually, Paul Simon, who wrote the songs, got frustrated and tensions arose between the two. They split up toward the 1970's but reunited another time to play the famous Concert in Central Park in 1981, which drew an amazing half million people.
In the film, "In Restless Dreams, The Music of Paul Simon," it shows him getting appearances on Saturday Night Live, (one dressed as a comical turkey,) and it shows Simon starting to get into different kinds of music, such as the Jamaican reggae beat, and African and Brazilian music. His interest in World Music took him to different countries and he began incorporating this experience into new sounds and songs.
The movie also showed his relationships with three different wives, Peggy Harper, Carrie Fisher, and his present wife, singer Edie Brickell. Paul Simon has had a house in Montauk for decades, and played many concerts out there, notably the "Back to the Ranch" concerts at the historic Deep Hollow Ranch during the 1990's. He joined fellow artists Billy Joel, Jimmy Buffett, Chris Kristofferson, the Allman Brothers, and others to raise money for the Montauk Lighthouse project.
During the Hamptons International Film Festival's "The Conversation With" the following morning, back on the stage, Paul Simon sat holding a guitar, while people yelled for him to play it, but he just talked instead, and answered questions. Several people from the audience raised their hands. Kirby Marcantonio, an alumnus of East Hampton High School, thanked Simon for all his involvement in helping to save the Montauk Lighthouse. Simon said he now spends much of the year at his home in the Texas Hill Country, with Edie Brickell. In the film he creates music in his log cabin-type house and studio there. The movie also showed scenes of Simon in the Hamptons, coming out here to relax and write songs.
Following the "Conversation With: Paul Simon," he walked to the edge of the stage, shook hands with fans, and signed autographs. Then as everyone walked out of the auditorium, a friend and I went down the elevator and ran into Paul Simon in the back parking lot, where we talked about his Montauk days and got a picture with him. Paul said he was on his way back to Texas. It was such a thrill to actually meet him after all these years!
Alex Gibney, the director of "In Restless Dreams: The Music of Paul Simon," who was also at the screening, said he is approaching streaming services to show this film at a future date. Stay tuned to possibly Netflix.
Along similar concert lines, we later met Ron Delsener after the premiere of the new documentary, "Delsener Presents." As New York City's top concert promoter, this fascinating film shows Delsener living his dream of promoting the biggest rock bands and other entertainment at all the best NYC venues, from Carnegie Hall to the Beacon Theater, to Radio City Music Hall, Jones Beach, to the Concerts in Central Park. His passion for the business was unparalleled—starting out he risked his own money to gamble on up and coming bands…and he promoted some of the biggest in the industry—the Beatles, the Rolling Stones, the Who, David Bowie, Patti Smith, Kiss, and more. He spent his life running around at night to all the venues and clubs…to follow his passion for finding and promoting talent and getting great venues. Director Jake Sumner told the  audience later that he followed Delsener, now 86, all around to create this intimate portrait of his life on the road.
Following the screening, there was an after party at the Maidstone Arms, with Ron Delsener, and guests including Christie Brinkley and Jill Rappaport.
Another exciting movie about a person going for her dream was "Nyad," about the famous swimmer and world-class athlete, Diana Nyad, the first person to swim 110 miles from Cuba to Key West. It was considered the "Mount Everest" of swims, and she did it without a shark cage, through shark-infested waters. It was Nyad's fourth attempt, which she had started at age 60, and finally accomplished at age 64. This riveting narrative feature was the East Coast Premiere, and was the Opening Night Film. It starred Annette Bening as Diana Nyad, and Jodie Foster as Bonnie Stoll, her determined coach and best friend. Look for this film to be streamed, possibly on Netflix.
Other themes at the Hamptons International Film Festival were Compassion, Justice and Animal Rights, and Environmental Issues. Famous director David Allen, of London, known for his National Geographic documentaries, showed his movie called "Wilding," about a couple in England who bet on nature for the future of their failing, 400 year old estate. Their land was in poor shape, so they tried an experiment to bring it back by introducing animals both tame and wild, and letting nature take its course. In a similar vein, the movie "Common Ground" looks at agricultural solutions to climate change, by following farmers using alternative regenerative ways to balance the climate, save our health, and stabilize America's economy, before it's too late. Instead of tilling the soil, and using pesticides which only harm the crops and soil, they use alternative farming practices which are more natural and help to bring it back to health. This film was directed by Josh and Rebecca Tickell. It also featured Laura Dern and Woody Harrelson. Following this film, there was a discussion with local model and environmentalist, Christie Brinkley, and the movie crew, about the need to bring these practices to the East End.
In the environmental category, was an important and eye-opening documentary feature called "Silent Fallout: Baby Teeth Speak." It was about how radioactive material can show up in the baby teeth of children, from the nuclear arms testing conducted on U.S. soil. Director/Screenwriter and Producer Hideaki Ito showed how in 2001, 85,000 baby teeth were discovered in Missouri, collected 50 years earlier in a study of radioactive consequences of nuclear testing on U.S. soil. This film was narrated by Alec Baldwin, HFF Chair Emeriti, who was later on a panel discussion along with local environmental journalist and author Karl Grossman.
Kudos to this year's people behind the 31st annual Hamptons International Film Festival, including Randy Mastro, Chairman of the Board, Anne Chaisson, Executive Director, and David Nugent, Artistic Director, for bringing exraordinary films, panel discussions, and events to East Hampton, Sag Harbor, and Southampton theaters and villages. We look forward to next year's festival!