by Sue Giustino
As the world slowly returns to somewhat normal conditions, it almost feels like pre-covid days. A Thursday evening dinner and show at South Edison was a wonderful step in that direction. As usual Head Chef/Owner Frankie Fuschetto, runs a seamless operation with welcoming staff and exceptional food.
With Ally behind the bar, our cocktails were perfect:  the Jan-Doey cucumber jalapeno margherita, the Pickle My Pepper Martini– a must for spicy pickle lovers-, the gin and ginger beer Red Head, and the smokey mescal Better Decision.
This season's menu has a few new items and some of the old favorites, while others have a bit of an ingredient change. Arranged with a mix of small plates as well as full meal dishes, it's diner's choice to mix and match as desired. We chose a wonderful variety while also enjoying the entertainment of the Assassins. The lively singing, dancing drag show; along with the smells and tastes of the kitchen, it made for a fun evening activating all of our senses!
Starting with a salad and a few small plates, we discovered the chef's creativity with delightfully blended flavors and textures. The Whipped Goat Cheese Salad with spigariello kale, creamy goat cheese, aged-balsamic, sweet pears and walnut halves for a little crunch is a perfect example of this balance.
The lightly coated crisp Fried Olives with Meyer lemon goat cheese presented in a copper art deco tin were bursting with delightful flavors.   Also with light crisp panko topping, the South Eds Clams with herbs, Meyer lemon and Reggiano parmigiana were a perfect blend of flavors- and one of my favorite dishes. Pan seared cauliflower spears with buffalo sauce and a side of coconut-avocado puree was a unique and spicy Buffalo Cauliflower dish. The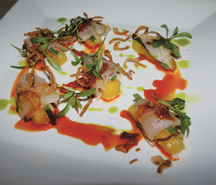 Fluke Sashimi was tender and tasty perched upon a delicate stack of watermelon, radish, spring onion, harissa-chili jam, and crispy shallot.
As the show continued on around us, we sipped a delicious Malbec, laughed, sang, and applauded the dancers who seemed to have endless energy and were obviously glad to be able to perform again.
When dinner arrived, we realized our eclectic choices including fish, pasta, shrimp and pork, although abundant, were perfect.  Sesame Shrimp Tacos– yet another one of my favorites– are full of shrimp and a creamy sauce blended with delicious flavors of pickled ginger, pablano pepper, spring onion, red cabbage, queso cotijo, crema and lime- all atop corn tortillas. The perfectly
Seared Yellowfin Tuna is cooked rare, sliced, and served on a beautiful platter of wild black rice, artichoke hearts, heirloom tomatoes, basil-broccoli puree, Thai-chili oil, and crispy shallots. 
Cavatelli is a staple on Chef Frankie's menu, however how it's prepared changes with the seasons. Blended with black-garlic-confit cream sauce, grana padano, roasted red pepper, shitake mushrooms and Meyer-lemon basil, this Cavatelli creation does not disappoint.
The table favorite of the evening- even praised by our non-pork chop eater- and one that I was glad to see remain on the menu is the Bone-in Pork Chop Parm. Tenderized to perfection, lightly breaded and pan fried, this large chop is topped with 'Grandma Mary's' fra diavola, gruyere cheese, and haricot verts.
Desserts are one of my favorite things when eating at South Edison. Unfortunately after all we ate, we couldn't even look at the menu. However, the house-made treats never disappoint, so try to save room!
Thanks to Chef Frankie, GM Sophia De Pasquale, our lovely waitress and bar tender, and the dancers from 'Assassin' for a most enjoyable evening. Their next appearance will be on Thursday May 20th– make a reservation because it fills up fast. Be sure to check their web-site for future show dates: https://www.southedison.com/.