In the first three HCBL All-Star Games, the South All-Stars could only score a combined four runs in 28 innings of All-Star play. At the 4th Annual HCBL All-Star Game at Baseball Heaven in Yaphank, it took the South only one inning to outscore the previous three South All-Star teams. The South took their first victory at the All-Star Game breaking a three game winning streak by the North in front of a huge crowd along with a host of Major League Baseball scouts.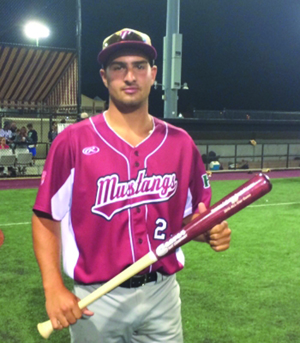 Montauk's Nick Fanneron (Northeastern) was named the game's Most Valuable Player. The second year Mustang went 2-for-3 in the game, with a single and a home run in the fifth inning. "It's an honor playing in the game with the other kids in the league" said Fanneron regarding the All-Star atmosphere upon winning the award. In the bottom of the first inning, the South rallied for five runs off North starting pitcher Anthony Catinella (Molloy) of North Fork. The rally began when Westhampton's Roman Baisa (Ball State) walked and Southampton's Kevin Kolesar (Queens) singled. Baisa and Kolesar would steal second and third putting two runners in scoring position early. Aaron Ping (San Francisco) of Westhampton would produce an RBI groundout driving in the South's first run. Southampton's Bill Schlich (Holy Cross) singled home his teammate Kolesar for the second run. Jack Thompson (Georgia State) of Sag Harbor and Hunter Courson (St. Edwards) of Southampton had back-to-back RBI singles putting the South up 4-0. The final run came on a double from Gable Whitacre (St. Edwards) of the Breakers.
The advantage helped South pitching, through the first innings of the All-Star Game, the North All-Star batters could only get two hits. Nine of the first 15 outs made by the South All-Star pitchers came via the strikeout.
In the bottom of the fifth, the South scored three runs on back-to-back homeruns. After Shelter Island's Nick Rand (UMass Lowell) struck out the first two batters, he walked Schlich to bring up Westhampton's Matt Dunlevy (VMI) who took the first pitch to right field for a two-run homer. The next batter Fanneron followed up with a solo shot on a 3-1 pitch "I was relaxed with the lead we had, I was looking for my pitch, once I got ahead in the count, I got that fastball (from Rand) and it worked out." noted Fanneron.
The North got on the board in the top of the seventh on a solo homer from North Fork's Dan Schock (Sacred Heart). The South got the run back in the bottom of the inning on a home run by Sag Harbor's Oscar Marchena (UMass Lowell).
For the South, Dunlevy and Schlich scored two runs each in the game as the South All-Stars rallied for 11 total hits. South pitching had a combined 13 total strikeouts in the game, not allowing a walk. Southampton's John Rooney (Hofstra) who started for the South, tossed a 1-2-3 first inning with a pair of strikeouts earning the