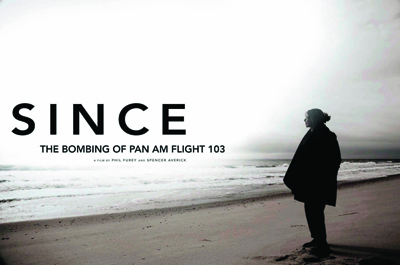 Montauk residents Suse and Peter Lowenstein will be featured in a Documentary- SINCE: THE BOMBING OF PAN AM FLIGHT 103 written, directed and produced by Phil Furey, and edited and produced by Spencer Averick- selected as the closing night film for the Hamptons Take 2 Documentary Film Festival in Sag Harbor at the Bay Street Theater on Sunday December 6th at 7:15pm.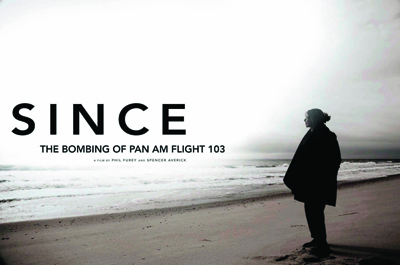 If you know the Lowensteins or have had the privilege of visiting their home to view Suse's sculptures "Dark Elegy" you know of their firsthand experience with terrorism and loss. They tragically lost their son Alexander, a student at Syracuse University, on December 21, 1988 when Pan Am flight 103, from London to NY went down over Lockerbie, Scotland in an act of terrorism; a total of 270 people lost their lives on that day. Dark Elegy is a product of Suse's artistic grievance therapy during the months and years following their loss. Starting with herself, she created a self-sculpture of the moment she heard the news of her son. Wanting to expand the project to include as many family members as possible, she extended an invitation to all family members of the victims of flight 103;  about eighty mothers, daughters, wives, sisters, and grandmothers  accepted the invitation to pose. The garden, depicting raw emotions shared by all surviving member of any act of terrorism can be viewed daily from 10am-12pm at the Lowenstein's home at 11 East Lake Dr.
About the Film:
-Terrorism is one of biggest problems facing humanity today, but the families of the 270 victims of Pan Am Flight 103 have lived with it for decades. Bound together by tragedy when a bomb ripped the New York-bound 747 jumbo jet into pieces over Lockerbie, Scotland, just before Christmas in 1988, the Flight 103 families faced one traumatic injustice after another. From the early days when an unprepared U.S. government left the relatives to fend for themselves against a greedy, once-iconic airline, to the modern era, when the only man convicted of the crime was set free in a backdoor oil deal with Libya, the families refused to go down without a fight, harnessing the power of the media in their war for truth and justice. SINCE: THE BOMBING OF PAN AM FLIGHT 103 is a feature documentary that tells the story of some of these first victims of terrorism, who proved that ordinary people can accomplish extraordinary feats in the wake of politically fueled mass murder. www.since103.com
Suse and Peter Lowenstein, as well as filmmaker Phil Furey will be in attendance and a Q&A will follow the film.
TICKET INFORMATION:
Bay Street Theater
1 Bay St, Sag Harbor, NY 11963
(631) 725-9500
Advance tickets can be purchased on the festival website:
http://www.ht2ff.com/ticket/since-the-bombing-of-pan-am-flight-103
$15 per person
Tickets may also be purchased at the box office.
WEB / SOCIAL MEDIA
Twitter: @Since103film
Instagram: @Since103film
Facebook: https://www.facebook.com/Since103film/