by Sue Giustino
One of Montauk's most welcome additions, Poppy Heart has won the hearts of so many local residents and visitors in our community. Located right in the center of town, it offers a walk-in studio, retail shop, café, art gallery, toy store, and an array of workshops and events.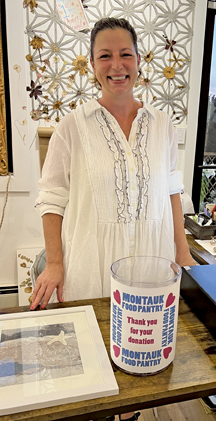 On Friday, August 19, local artists joined Poppy Heart's talented founder, Tiffany LaBanca-Madarasz, to raise much needed funds for the Montauk Food Pantry. A percentage of all art sales that evening, along with welcomed donations, went directly to this essential local organization. All who attended enjoyed the art work and spirit of the event.
If you haven't already stopped in, you will want to do so to view the many unique items offered, browse original artwork, or explore the multitude of mediums offered in which to creatively participate. It's a wonderful place to visit.
Be sure to check for Poppy Heart's upcoming online schedule of events. Open 7 days a week – you will want to pop in to Poppy Heart!
You will find you are always welcome!