by Sue Giustino
As winter nears the end, the Montauk restaurants that took a hiatus for the colder months are once again opening their doors to diners.  Among them is Muse @ the End, located on South Euclid Avenue, which is now open and ready to serve their delicious meals.
We joined them for dinner on a chilly Friday evening. Welcomed by Mario, we were led into the spacious dining room. The low lighting and warm ambiance of the room is welcoming and comfortable. Although we ate in the dining room, the bar side of the restaurant is also a great place to sit, at a high-top or along the bar, for drinks, apps, and/or a meal.
As our friendly waitress Kristina went for our drinks, we enjoyed the warm crusty bread. The cocktail menu offers creative martinis, mixed drinks, as well as a complete wine list- including a delicious new Cabernet Sauvignon from California, Gabrielle Ashley. The Lavendar Margaritta, a special of the night, has light subtle fragrant of lavender with just enough tart. The bartender also made us our own favorite creation, a Montauk Sunset with Stoli-O with a dash of cranberry, and a tequila martini with fresh lime.
Chef Ronnie, who has been working at Muse for about four years, decided to send some of his favorites for us to enjoy. Starting with big, cold, crisp and tasty Shrimp Cocktail served in a high glass on a bed of spicy cocktail sauce with micro greens and a wedge of lemon. We also enjoyed the fresh Casa Muse Salad of greens tossed with a light aged balsamic dressing, cherry tomatoes, sliced cucumbers, and topped with shaved Parmesan cheese. Both were fresh and tasty.
Among the other appetizers on the menu are an arugula goat cheese salad and a BLT salad. One of my favorites is the Mussels a al Muse, Prince Edward Island mussels, prepared with Prosecco butter sauce, grilled artichoke hearts, cured tomatoes and gigante beans. Others include Salmon Tartare Wonton Tacos, Baked Clams, Cauliflower Tempura, Crispy Calamari, Corn Poppers, and Lobster or Scallop Mac & Cheese.
Our dinner choices were from both land, and sea. The Linguini and Clam Sauce which is blended with a tasty lemony, herb garlic sauce and topped with fresh parsley and tender fresh clams, was flavorful and cooked perfectly al dente. Grilled to perfect medium rare, the 14oz New York Strip Steak was topped with a delicious Chimichurri. Served with tender roasted carrots and a tangy carrot puree, this dish had a wonderful blend of flavors. 
Our last dish, and one of my favorites, was the Halibut special. The fish was fork -tender, gently seasoned, sitting atop a bed of mushroom risotto, all adorned with a beautiful fennel sauce and watermelon radish.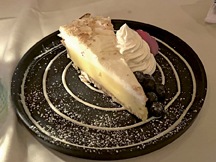 The entire menu, as well as nightly specials offer a vast array of choices, sure to please all palates. However, don't fill up too much, be sure to leave some room for dessert. So, after relaxing a bit while finishing our glass of wine, Chef Ronnie sent us two decadent choices. Key Lime Pie is traditionally prepared with a graham cracker crust, yet this one had a coconut graham cracker crust, a unique tropical twist.
Creamy and lightly tart, it served with whipped cream and berries. However, the warm dark Chocolate Lava Cake with a warm creamy chocolate center is more my style. Chocolaty goodness garnished with whipped cream, sliced strawberries and fresh mint.  Both were presented beautifully and tasted delicious.
For times and complete menus, go to  https://museattheend.com/.