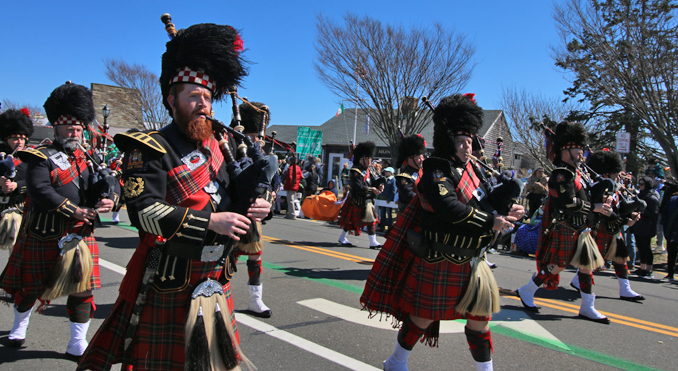 Each year, Montauk comes to life after a sleepy winter, with the much anticipated St. Patrick's Day Weekend. The kickoff for this is always the Grand Marshal's Luncheon, held once again at Gurney's Montauk on Friday, March 24.
A few hundred people gathered downstairs, overlooking the ocean beach, while the Montauk Friends of Erin paraded into the room with this year's honoree, Jimmy Grimes, leading the way. Wearing the green, orange and white Irish sash, Grimes stood in front of the crowd, while last year's Grand Marshal, Marilyn Behan, presented him with a tall black top hat, and he was also handed a shillelagh and a giant "Key to Montauk." During the ceremony, East Hampton Town Supervisor Peter Van Scoyoc also presented Grimes with a plaque from the Town. During the ceremony, East Hampton Town Animal Control Officer Betsy Bambrick played guitar and sang an Irish song.
Emcee and former East Hampton Town Police Chief Ed Ecker, Jr. took the podium and welcomed everyone to the 61st Grand Marshal event. He pointed out the photographs posted on the walls of all the previous Grand Marshals. Many of them were in the room, including Kathy Keller, George Watson, Capt. Paul Forsberg, Henry Uihlein, Joan Lycke, and others. Since this celebration was also a roast, many people stood up and joked about Grimes,
who has a huge amount of relatives in Montauk, including the Pitts, the Eckers, Collins, and Seitz families. They also talked about how Jimmy Grimes, his wife Norah, and their three children also have a home in Donegal, Ireland, where she is from.
They honored Jimmy Grimes, a fourth generation native of Montauk, and owner of Fort Pond Native Plants and J.C. Grimes Land Design, for his 47 years of community service in the Montauk Fire Department, and as a Town Trustee, a Scout Master of the Boy Scouts, as a foster parent, an environmentalist, and for also being involved in Ducks Unlimited and other organizations. His father, Vinnie Grimes, was Grand Marshal in 1986, and his brother, Keith Grimes, also lives in Montauk with his family.
Jim Grimes joked about how he was wearing a tuxedo, and following in the footsteps of all these Grand Marshals. "It's a little bit like running for Trustee," he said. Gurney's Montauk has traditionally held this luncheon most years, which included their delicious fish, chicken and pasta served with salad, wine and chocolate cake.
The weekend continued at Gurney's on Saturday night, as usual, with a huge cocktail party and buffet dinner, music and dancing, and pipe band. All proceeds went to the Montauk Friends of Erin for their big parade on Sunday, March 26. It is touted as the second largest in New York State, only to the NYC parade, where they also marched, on March 17.