by Jennifer Faga, DVM          photos by Willow DuBrovin
ALL ARE INVITED TO THE GRAND RE-OPENING CELEBRATION!!
NOON – Saturday, May 27, 2023 at 127 Daniels Hole Road, Wainscott, NY
Info: www.arfhamptons.org
Everyone has heard of or knows ARF, but do you know its beginnings? Just a little background brings such respect for those in the past and those who continue to perpetuate the passion behind this staunch institution.
Animal Rescue Fund (ARF) was born of "a vision" held by few local animal advocates, who got together and "found a way to turn a dream into a reality" in 1974. Thanks to their passion, determination, hard work and resolve, co-founders, Sony Schotland, Barbara Posener, Dorothy Wahl, Cleveland Amory (founder of the Fund for Animals), ARF was born.
It took 10 years to grow to the point where a brick and mortar facility was possible and in 1984, the present 23 acre site was purchased through a generous donation from Edward and Susan Yawney and the dream became a reality.  (Fast forward…)
In 2012 ARF began the process of renovation and reconfiguration of their space with the hire of an animal care facility architect, Richard Bacon…and the Bacon Group. Expansions continued to evolve slowly, through the years as new needs were identified. In 2015, the medical floor was upgraded to include a new surgical suite, radiograph room, and feline isolation rooms, equipped with upgraded HVAC systems to reduce airborne spread of pathogens.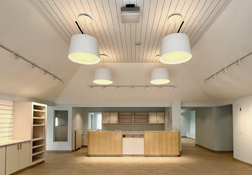 It wasn't until 2020 that the bigger, long term goals were finally tackled when an "angel donor," Richard Wells McCabe, gifted the endowment to ARF that sparked a huge "Forever Home Campaign" to raise funds to renovate the entire building, and add a much needed year-round enclosed training facility. The new facility was conceived and they broke ground in 2021.
The Richard Wells McCabe Welcome Center is a bright, open, light filled space that includes a large reception area, retail space, ARF's cat and kitten rooms with climbing walls, as well as puppy rooms and 4 glass enclosed "meet and greet" rooms for getting to know your new potential "furry family member."
The entire complex has upgraded state of the art HVAC and air purification systems, designed to protect both animals and humans.
The Kennel building is 7,000 square feet, "constructed of high quality, and durable materials, sound dampening acoustic insulation, and nitrogen reducing waste treatment system." Scott Howe explained. "In the design process, consideration was taken for the well-being of the dogs and the staff entrusted to care for them." The new kennels consist of 36
individual kennel cells with free choice outdoor areas, and private rooms for dogs with special needs and "get-acquainted rooms" for adopters as well as new outdoor exercise areas.
The most spectacular feature of this 13.9 million dollar renovation/construction project is the newly constructed and dedicated "William P. Rayner Training Center!" I'll be honest, it's beautiful, both in size, and potential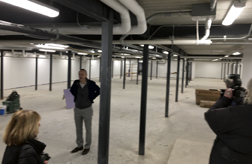 use/function year-round! It also doubles as an approved evacuation center for pets due to its window loading (120 MPH) safety glass and structure integrity. This 8,400 square foot training, socialization, and enrichment center will give ARF dogs and the public a beautiful and functional space year round.
When asked if they will employ a full time staff trainer, ARF Director Scott Howe stated that they have decided to enlist services of several trainers, in lieu of just one as in past years.
MARDERS (https://www.marders.com/), generously donated and provided all landscaping and revegetation and a temporary underground sprinkler system to assist the native vegetation to take root, and become sustainable to not need watering in future.
To learn more or schedule a tour, please contact Kristina@arfhamptons.org.  To make a donation in support of the Forever Home Project, call 613-537-0400 x219 or visit www.give.arfhamptons.org/foreverhome
Footnote:  This writer would like to express her condolences to the family and friends (humans & furry) of Sonia 'Sony' M. Schotland (co-founder of ARF)
who crossed the "Rainbow Bridge" at 94 years old on March 14, 2023. Thank you for your words of encouragement decades ago and through the years, to follow my passion in animal advocacy and rescue.  On behalf of the thousands of homeless pets you assisted in your lifetime. Thank you.