Welcome to this month's Montauk Fire Department Corner. Hoping that everyone had a nice, safe month of August and are enjoying this marvelous Labor Day weekend. Montauk has had a great summer, the crowds have been large, and the weather has been outstanding. That's the combination that keeps us busy at the Montauk Fire Department.
On Friday, July 22nd at 7:10pm the Montauk Fire Department was called to the scene of a brush fire located in the Walking Dunes area of Napeague at the end of Napeague Harbor Road. The fire of undetermined origin was located in a very difficult area to reach in the northern boundaries of the New York State Hither Hills park land. Montauk Fire Chief Scott Snow, First Assistant Chief Ken Glogg, and Second Assistant Chief Peter Joyce Jr. responded, setting up a command post in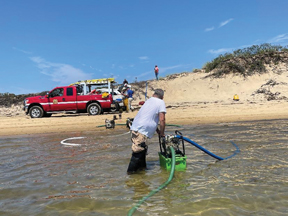 the parking area at the end of Napeague Harbor Road. Many members of the Montauk Fire Department responded along with the appropriate apparatus to fight such a fire. It was determined shortly after arriving at the scene that additional assistance would be needed and a mutual aid request was made. Amagansett, East Hampton, Sag Harbor and Bridgehampton Fire Departments all responded with their respective brush trucks and personnel to assist. Additional assistance was rendered by the East Hampton Town Police, New York State Park Police, and New York State Park's ATV's.
Special thanks to Montauk Fireman Steve Akkala who assisted with his drone. The fire was fought for approximately five hours in very trying conditions considering its location and the heat. It is estimated that approximately twenty-five acres were scorched, making this the largest brush fire in the town of East Hampton since 1986.
On the following day, July 23rd at 10:10am and again at 12:51pm the fire rekindled and mutual aid was called for once again. Once again, Amagansett, East Hampton, Springs, and Sag Harbor Fire Departments responded. The fire was ultimately extinguished at approximately 5pm.
Chief Scott Snow praised and thanked the officers and men and women of the Montauk Fire Department, the EMS, and the Ladies Auxiliary for a job well done. He also thanked all of the other East End departments that responded when called for mutual aid.
Just a reminder that the Montauk Big Bucks drawing will be held in public this year. The date is Sunday, September 18th at the Montauk Fire Department. Gates will open at noon. Additionally, you will be able to buy tickets for next year's Big Bucks that day at the event.
Chief Snow also wanted to thank the EMS crews who volunteered to stand by at the Montauk Lighthouse concert on Saturday, August 13th. It was a great event, made safer by Company No. 4's presence.
That's it for this month's edition of Montauk Fire Department Corner. Have a fun and safe Labor Day weekend. We look forward to keeping you up to date on the Montauk Fire Department next month.
https://www.montaukfiredistrict.org/