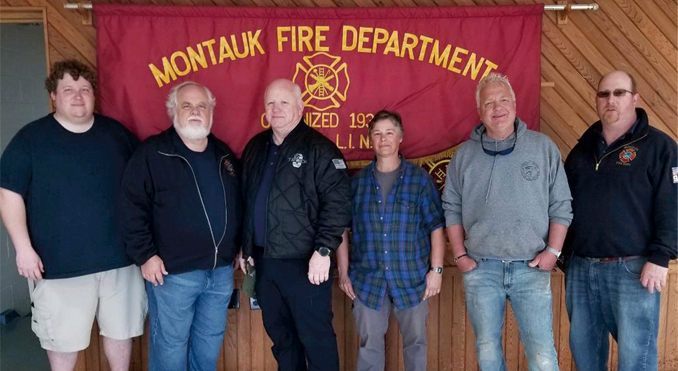 Photos by Richard Lewin Professional Photography (soniboy@aol.com)
Welcome to this month's edition of the Montauk Fire Department Corner. I hope everyone had the opportunity to spend a nice Easter and Passover with their friends and family.
The weather is starting to turn nice and we will soon be in the busy season. I am requesting that, as our roads get more crowded, that you take extra precautions when driving and please pull over safely for emergency vehicles.
I am sad to report the passing of Frank Ward. Frank was a twenty-plus year Member of the Montauk Fire Department. He served both as Lieutenant and Captain of Company No. 1 and was the Chairman of the Montauk Fire Department Ambulance Squad prior to the squad's becoming an independent Company in the Department.
On behalf of the Officers, men and women of the Montauk Fire Department, I would like to send our condolences to Frank's family and friends, and to thank him for his service. Rest in Peace.
On Saturday, April 15th five members of the Montauk Fire Department successfully completed a course of instruction to become Emergency Operation Vehicle Course (EVOC) Instructors. This is extremely beneficial to the Department as we are always looking for members to be qualified drivers. The course was given by Mr. Frank Gallagher from the Volunteer Firemen's Insurance Services (VFIS). The VFIS is the largest provider of insurance, education, and consulting services to emergency service organizations. Congratulations and thank you to Eddie Schnell, Chip McLean, Jeanine Miedzwiecki, Kenny Hejducek, and Justin Raynor for successfully completing this course.
In that same vein the Montauk Fire Department held an informational meeting on Thursday, April 20th for any persons interested in joining the Department to train to be Emergency Medical Technician's (EMT's). It was an encouraging turnout. If you couldn't attend that meeting and are interested in joining the Montauk Fire Department, please call us at (631) 668-5695 and we will provide you with all the information you need. Please give it serious consideration, as it is one of the most important and rewarding ways you can assist your community.
On Sunday, April 23rd the Montauk Fire Department and the Montauk Point Lions Club hosted a pancake breakfast at the fire house. The proceeds will go to defray the costs incurred for the annual MFD/Lions Club Senior Citizens Holiday Dinner in December.
Recently the Montauk School PTA used the Montauk Fire Department facilities to host their Pasta Dinner fund raiser. It was well attended, and all the proceeds will benefit the good work being done by the Montauk Public School Parent Teacher Association. Please enjoy the attached photos of the event.
That's it for this month's Montauk Fire Department Corner. I look forward to sharing more information about the Department in next month's edition. Stay safe.
         ~ Ken Glogg, Chief, Montauk Fire Department
https://www.montaukfiredistrict.org/