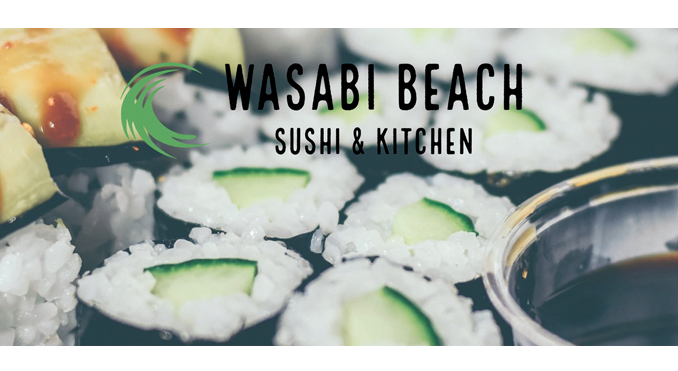 by Sue Giustino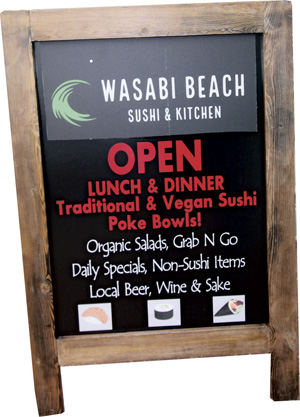 Montauk is home to some of the best local fish anywhere, caught right off our shores. You can find many restaurants and cafés offering a variety of fresh boat to table fish options, including many who have Sushi menus.  Well, if you looking for local organic food, including sushi, that's just a bit out of the ordinary, then take a look at Wasabi Beach Sushi & Kitchen.
Andrea, former chef/owner of Naturally Good Café, and her partner Jonathan opened Naturally Good Sushi in 2019, initially as a spin off location.  This year they changed the name to Wasabi Beach Sushi & Kitchen, since they are no longer tied to Naturally Good.  Located just a BLOCK FROM THE BEACH AT 38 S ETNA AVE, the restaurant offers the same great fresh food including many new options for those who don't eat sushi. Trained Sushi Chefs assemble the rolls with just caught local fish, and freshly prepared accompanying ingredients and sauces all made from scratch from clean and organic ingredients, and you can really taste the difference!   Andrea & Jonathan are in their element as hands on owners and are happy to operate a more intimate, smaller location where they are involved in every aspect of the business from food prep to customer interaction.  "We can ensure that everything we prepare is made with the highest quality, freshest ingredients and that every item is prepared with care and love."
Don't like sushi?  Well, you may want to take a look at their offerings from the kitchen, daily specials on the board, and the wonderful selection of vegan specialty rolls.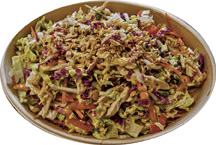 We sampled an array of the 'non-fish' vegan sushi rolls and kitchen items. Starting with the Organic Chicken Chop Salad– the mix of napa cabbage, romaine, carrots, jalapeno, scallions, peppers, cilantro, shredded organic chicken breast, peanuts, mixed with a sesame and mango vinaigrette was outstanding. I could have eaten the entire generously portioned salad, however, I knew there was a lot more to come, so I restrained myself.
The spicy flavorful blend of the Organic Mushroom Fried Rice with Organic Tofu [the tofu in an add on, or it can be organic chicken if you prefer] was a wonderful twist on traditional fried rice.  It consisted of a perfect combination of roasted oyster, shiitake and cremini mushrooms, brown rice, garlic, ginger, bok choy, onions, peppers, scallions, spicy sesame-tamari sauce, spinach and walnuts. Another salad we enjoyed was the Organic House Market Salad. Consisting of fresh local ingredients depending on availability; for us it was organic greens, cucumber, local summer squash and sweet peas, carrots, scallion, and toasted cashews, served with a side of a terrific carrot ginger vinaigrette dressing.
From the eight choices of Vegan Specialty Rolls we enjoyed three of them, but be sure to check them all out. The Sunset Roll has avocado and organic peanut crunch on the inside and is topped with mango. It may not sound like much, but it is as flavorful as it looks; the creamy, crunchy peanut mixture, the soft gentle flavor of avocado, and the light sweet tropical mango flavor creates a unique roll bursting with unexpected flavor. While the freshness of the Farmstand Roll is like taking all the best a farmstand has to offer and rolling it up: Roasted pepper, carrot, avocado, scallion and pea shoots all wrapped in vegan soy paper and topped with sriracha mayo. Yes, it is as good as it sounds! Another tasty vegan choice is the Sweet Potato & Pink Lady Apple Roll. Offering a complex blend of texture and flavor from the gentle sweetness of the tender sweet potato, the sweet crisp crunchy of the apple, and creamy smoothness from the avocado all rolled and topped with a dab of vegan wasabi mayo; another amazing creation.
From the Specialty Sushi Rolls section of the menu [there's also Wasabi Beach Favorites, Sushi & Sashimi, House Rolls/Handrolls as well as choices for the Kids] we had a hard time deciding, as they all sounded deliciously unique. However, I think we chose well. The Dani Roll and the Beach Bum Roll each have wild shrimp tempura which is so crunchy, even rolled with the other items. I asked Andrea how the made it and she told me that they use traditional tempura batter but then roll it in tempura crunch. Also, they prepare each shrimp to order. Added to the crisp crunch of the shrimp in the Dani Roll is cucumber and avocado, which is topped with spicy tuna, tobiko, eel sauce and sriracha mayo. While the Beach Bum adds spicy lobster and mango wrapped in soy paper topped with organic orange chili sauce. Both are outstanding.
The flavorful Tomi Roll also has spicy tuna with tempura crunch and cucumber inside, topped with organic peanut crunch, scallions and sriracha mayo- crunchy spicy goodness. The final roll is the South Etna Roll; spicy local fluke, tempura crunch and avocado rolled and topped with tuna and tobiko. As with all of the rolls we enjoyed, the flavor and texture combinations were wonderfully creative and tasty.
Something sweet is always nice after a meal, or on its own. We had the moist, flavorful 'Jon's Organic Pineapple Cake' with a gentle sweet glaze- it was delicious. Be sure to check out the list of additional vegan and/organic homemade treats.
Wasabi Beach Sushi & Kitchen's location is perfect for a quick walk from the beach to take out, or even take a break and enjoy your meal in the outside garden area, or in the store at the café tables. The little market also offers grab-n-go dishes, fresh fruit, beer, and a unique variety of juices, waters, teas, and soda.  Take a walk in or check out the menu online at https://wasabibeachsushi.com/