Photos Courtesy of Richard Lewin Professional Photography (soniboy@aol.com)
Good day and welcome to this month's edition of Montauk Fire Department Corner. Hoping that all our followers had a safe and enjoyable Saint Patrick's Day.
It is sad to report that the MFD lost one of its oldest members and an icon in the Montauk community when Vincent E. Grimes passed away on Sunday, February 20th. Vinnie was a Montauk legend and one of the last surviving locals born and raised on the beach when Montauk Village was located on Navy Road. Vinnie followed his father Edgar into the Montauk Fire Department as a junior firefighter in the 1940's. After serving a tour in the United States Navy, he returned and served as Captain of Company No. 2, as a District Commissioner, finishing his fire department career in Company No. 6 a few years ago. He is part of a long line of Grimes's to serve their community through the fire service.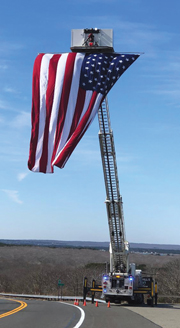 His two sons are in the Montauk Fire Department, his grandson David is in the MFD, and grandson Pete is a member and Ex-Chief of the Springs FD. Additionally, his younger brother Charlie is an Ex-Chief of the Montauk Fire Department and now serves in Company No. 6. Vinnie will be sorely missed, not only at MFD but by the entire Montauk community. Our deepest sympathies to the Grimes family. Please see some Photo Mementos of the tribute here. The one with the flag at the Overlook is by Company No. 5 Captain Tim O'Rourke.
On Monday, February 28th the Montauk Fire Department conducted a drill at the Montauk Beer and Soda store on South Elmwood. The drill used a full complement of members from all six companies. The drill's theme was fighting basement fires in confined spaces. EMS personnel also practiced the treatment of injuries and rescues in the same conditions.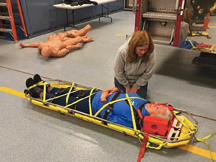 On Wednesday, March 9th a heavy rescue drill was conducted at the Montauk Fire House. Ex-Chief Joe Lenahan, the primary instructor, had planned to drill outside, but due to the inclement weather the drill was held indoors.
Young Joseph Nigro made his first trip to the Montauk Fire Department in February a few days after his second birthday on Valentine's Day. Joseph loves fire trucks, and we are thinking and hoping that he will be signing up for the Juniors as soon as he can.
It was all hands on deck for MFD personnel for this year's Montauk Saint Patrick's Day Parade. Department members and apparatus proudly made their way down the parade route in honor of Saint Patrick and in support of this year's Grand Marshal, Marilyn Behan.
https://www.montaukfiredistrict.org/