by Michael Diviney
The Montauk Circle is the heart of our beloved town and it's newest addition is a must try. Montauk Circle Burger (MCB) has taken a familiar location (the former home of O'Murphy's Pub and Saltbox) and made it feel fresh in the best way possible. Before you walk in, the boldness of the exterior red door gives you a hint that what lies ahead is going to be exciting. As we made our way into the restaurant, the first thing we noticed was the transformation of the room. Everything we were looking at looked new but felt like it had belonged there immediately. Brand new wood flooring, a breathtaking array of mirrors behind the gorgeous new bar, and stunning landscape photos hanging on the wood paneled walls throughout the space.
We were greeted by our incredibly warm host Jeff Kline who, along with Monica Whelan, is a principal partner of MCB. Jeff,Monica, and Chef Maurizio Franco set out to bring high quality craft burgers, a fun dining experience, and affordable prices to Montauk. (Spoiler: They have done exactly that). The care and effort they have invested into this young vibrant business is evident before you even make your way to the table. After a welcoming introduction, Jeff showed us to our table for four at the front of the restaurant where we could take in everything going on along the streets of Montauk. our server greeted us with the menus and that's when the real fun began. We knew to expect a significant burger selection given the name of the restaurant, but we were pleasantly surprised by how much more the menu had to offer. The appetizer selection could have created quite the delicious meal on it's own with selections of mussels, fire cracker shrimp, lobster mac and cheese, and many more. We let Jeff and the kitchen send out their own selection of food so we didn't have to struggle with our inability to make menu decisions this time around.
Circle Burger hadn't yet received it's liquor license when we stopped in, but it sounds like they have great plans for when they do in late June. Taps with local beer, a full bar, and we may have overheard something about a secret homemade pineapple infused vodka that sounds incredibly intriguing for a Montauk summer. Although they let us know they were allowing BYOB before they receive their liquor license, we stuck with cold water and fresh iced tea.

The dishes began to arrive one by one and we were consistently wowed with each presentation. The Jumbo Hot Wings were the first addition to the table and they were as delicious as they were beautiful. The first bite included an audible crunch and the mouth swell of flavor in the Mango BBQ sauce. As the flavor of chicken kicked in we realized this was proper fried chicken under the delicious sauce.. Spicy, a touch of salt and ever so slightly sweet, these wings bathed in deliciousness were everything you want out of a wing. The Montauk Street Corn arrived next and I had to take out the menu again just to make sure I had read it right the first time: "Long Island corn butter poached and smothered in Dragon Sauce, covered with parmesan and queso fresco." As an avid food eater, butter poached and smothered is as poetic as corn has ever been prepared and described, and this dish lived up to its description. We also all greatly appreciated the gorgeous re-purposing of the husk rolled and tied into place as a handle for on the cob eating.
The onion ring stack that Jeff garnished and delivered himself was simply gorgeous. The table actually cheered when they arrived, partially because we knew we wanted them but more so because they looked stunning. The crunch of my brother taking the first bite of his onion ring may have actually shaken the table, a sign of being cooked to perfection. The side effect of uncontrollable smiling ensued. The next dish is one that I tend to have a hard time ordering when the word burger is in the name of a restaurant; the garden salad. This salad certainly helped show us the versatility of MCB and why this burger spot is one where you will proudly order a salad. The garden stood tall and divine, full of beautiful fresh vegetables, laced with their delicious orange vinaigrette, and topped with freshly cut microgreens. This was a lovely addition to the table and great to share between the four of us.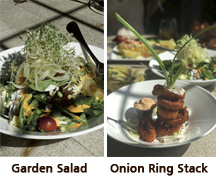 The choice of our favorite dish certainly was not an easy one however I believe the final consensus was the bowl of steamed mussels Jeff brought out to us. Mussels are my favorite shellfish and that fact is mostly due to the incredible bowls of mussels I have had in Montauk over the years. This bowl will forever stand out. The menu describes them coming in a garlic, white wine, and butter sauce topped with seasonal market vegetables, Italian sausage crumbles and jalapeno slices, but I have the feeling there is a magical ingredient that adds a layer of flavor to this majestic sauce. We fought over the last mussel as every family always should and made sure to keep the bowl for drenching our french fries in later. The final prelude to the main course was one of the day's specials, Fluke sashimi. The fluke seemed to have been brought straight from the docks and like every dish that was brought to us was not lacking in flair. Micro bean sprouts were perched above a wheel of watermelon radish and delicate ribbons of celery which sat atop the bed of fluke. The fluke was delicious and paired well with the textures of the vegetable accompaniments and the soy based sauce that lined the plate. It was also a great segway to the namesake main event that was to come.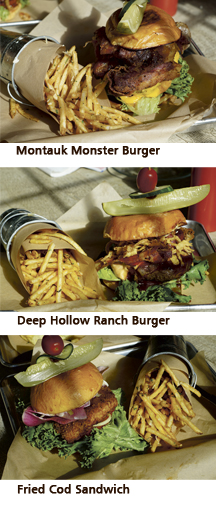 To this point, we were all happy and probably had eaten enough for most to call it a day. Luckily for us, Jeff had other plans. Luckily for Jeff, we tend to be able to eat more than Joey Chestnut on the Fourth of July. Out of the kitchen came three beautiful sandwiches, each greater in size than the next. First, the Fried Cod sandwich which, like everything else that came fried, was perfectly crispy and delicious. The fish sandwich on the menu is the catch of the day and will rotate based on local availability. Another fun addition to the menu that the team had just decided on is MCB's "You Hook Em We Cook Em" program. Bring your fresh catch filleted from the dock into Circle Burger and their chef will provide an appetizer and your fish prepared several different ways for the table for $42 per person. There's nothing better than spending a great day on Montauk's waters, catching local wild fish, and having a local chef prepare an amazing meal for you and your family or friends that very same day.
Then there were the burgers. Jeff decided on the Montauk Monster Burger and the Deep Hollow Ranch burger for us to try. The Monster earns it's name in that it is half bacon half burger. (By half I mean half pound). This beauty was piled high and layered with lettuce, tomato, aged cheddar and lived up to all expectations. The bacon was deliciously crispy but didn't fall to pieces on you. The burger itself was fantastic, and it simply felt like a personal accomplishment with every succeeding bite. That said, my personal favorite of the sandwich course was the Deep Hollow Ranch Burger. Gorgonzola, pepper bacon, 8oz patty, BBQ sauce, crisp fried onion, and the refreshing addition of citrus aioli was superb. This burger was incredible to look at, let alone bite into, and my first bite took me to another world. The reaction to my first bite also sent the rest of the table into raucous laughter, but luckily I always am sure to check my ego at the door when partaking in serious eating.
We finished up our fantastic meal by dipping our remaining french fries in that phenomenal mussel sauce we kept aside. With eyes glazed and grins glued to our faces we had a lovely chat with Jeff and Monica about what they hope to bring with their new culinary venture. They both have a successful background in hospitality and after having several roles and Monica spending some time in the Finance industry, upon meeting each other they saw an opportunity for a new partnership. The space itself was ideal and despite initial plans to mostly provide craft burgers as a delivery service, the opportunity to create a new dining experience in Montauk was too good to pass up. Through local connections they found their incredibly talented chef Maurizio and developed what is now a fantastic addition to the town of Montauk.
Through the Summer, they have great plans to continue with the restaurant's development beginning with the addition of the bar program in the next couple of weeks. They then plan to expand their dining room with an outdoor space and hope to create a delivery service to the beaches and hotels in town. I was also happy to hear that MCB plans to keep the wow factor of its food and it's delightful service open for the community to enjoy year round. That said, don't wait to stop in. Next time you are in town and driving through Montauk's iconic circle, find a parking spot and try one of our new favorite spots this Summer at Montauk Circle Bar.
99 S. Edgemere St., Montauk      631-238-5510      www.montaukcircleburger.com