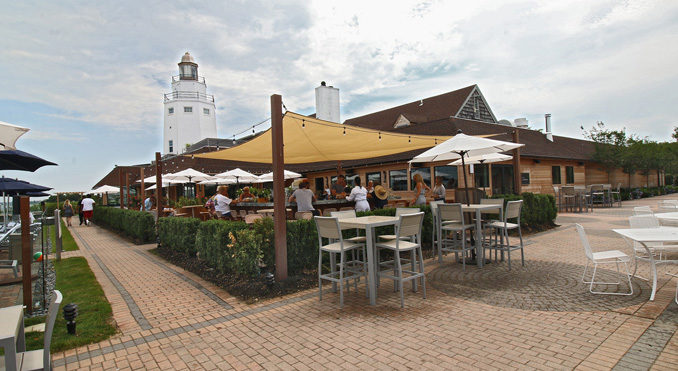 by Sue Giustino
Overlooking our 232-Slip marina, The Pool Club supplies all the comforts necessary for a leisurely lunch in the sun. Either at the poolside bar or at one of the lovely tables dotting the deck outside the main dining room -with the protection of an umbrella and the cool breeze off the water- it's a wonderful spot for an alfresco lunch. From May through September, you can enjoy one of many signature frozen drinks, such as a Watermelon Chili Margarita, Frose, or Red Sangria; and/or indulge in their poolside food menu, with options including one of their pool side Pizza's, traditional or spicy Sirach Lobster Rolls, Town Dock Fish Sandwich, Double Stack Burger, Lobster Cobb, Fresh Fish Tacos, and more.
As is true for the main dining room, Show Fish, the Pool Club menu consists of all locally sourced items prepared in-house. As Jeremy explained during a previous visit, the products are used in multiple capacities throughout the various food settings, as well as at the bar. They cure their meat, infuse oils and vinegars, make pate, butter, breads, sauces, purees…pretty much anything he can create to utilize all
of each product. The meats and produce are sourced through a variety of local farms- from LI to upstate NY, NJ and Pennsylvania. The fish and shellfish is dropped off by a number of local fishermen, most of whom Jeremy grew up with.
On what I think was one of the hottest days this summer, we chose to sit outside and enjoy lunch on the patio. When we arrived, we were offered an inside table due to the heat, however we chose to sit at the edge near the pool and counted on the rare breeze for comfort. It really was lovely under the umbrella, with a spectacular marina view, sipping our cocktails. I had the Maiden Voyage which was vodka, cucumber, mint, and lime; other favorites were the MTK Rum Runner and the peach Frose- perfectly refreshing drinks for a hot day. Even with the quick pop-up shower we stayed covered from the umbrella. Once again they offered to move us indoors but we stuck it out.
Coming highly recommended by Mike, the GM, we started with the Clams Casino, Farmers Board, and the Wheat berry Tabbouleh. Each on was outstanding! The clams prepared with house bacon, kimchi butter, and radish had a lovely blended flavor just accenting the fresh clam flavor. The Tabbouleh with cucumbers, tomatoes, and peppers atop a bed of whipped feta cheese; a perfect balance of flavor and texture. One of our favorites was the Farmers Board presented with a variety of raw and house pickled veggies, homemade green chickpea hummus and crushed spring peas with a side of house matzah. Each item had a distinct degree of pickled flavor, spice and texture. What a unique display of healthy eating.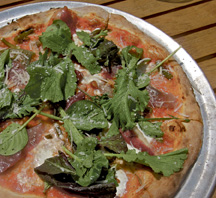 We chose the Stracciatella from the list of Pizzas, prepared in their new pizza oven- made special for them by "Young guys from Carmel, NY" -as Jeremy likes to put it. Although our friendly waitress Mila suggested the tempting Tartufo Pizza with wild mushroom, robiola, black truffle and sage, we were partial to the description of the Stracciatella. A think crisp crust with a light, fresh tomato sauce, house made Duck Prosciutto, arugula and ramps and a light dusting of cheese; this was a perfect 'summer fresh' choice.
To round off our selections, we choose the Lobster Roll and Fish Taco. Having the choice of Traditional or Spicy with house made Sirach, we went with the spicy Lobster Roll. Served with thin, crisp fries it was fresh and delicious. The Fish Taco had pan fried local halibut with a light crispy coating, served in blue corn tortillas topped with taqueria condiments and smoked feta, which added a nice flavor contrast to the mild halibut. Everything about our service and meal was outstanding. Each dish was beautifully presented on rustic plates which compliments the casual beach atmosphere of this poolside venue.
Although there are some constants, depending on what's running or growing locally will determine the menu, and if it's not caught that day, they may be out of certain dishes. However, even if you've already found a favorite and it changes or they're out of it, try something new, I guarantee it will be worth it!
The Pool Club opens daily at noon, but if you haven't seen the newest Gurney property, stop by any day for breakfast, lunch, or dinner- and be sure to visit Marco at the poolside bar while you're there as well. Once again, congratulations to Chef Jeremy, and Food and Beverage Manager Kevin for creating this fine dining experience.
https://www.gurneysresorts.com/montauk-star-island/dining/the-pool-club