by Sue Giustino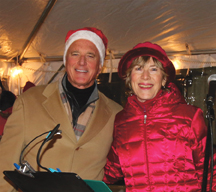 After missing the lighting last year, visitors from far and near were thrilled to once again see the Montauk Point Lighthouse lit up for the Holiday Season.
The chilly November evening was filled with families, friends, song, hot chocolate, and of course a visit from Santa.  Sarah Conway and the Playful Souls entertained the crowd with holiday favorites and sing-alongs.  Following the festivities and caroling, the countdown led to the flip of the switch by Dave and Gail Webb, illuminating the National Historic Landmark adorned with lovely white lights. Then, to the delight of young and old alike, Santa stepped out onto the viewing walk at the top of the lighthouse. Cheering and chants of 'Santa' filled the festive evening air!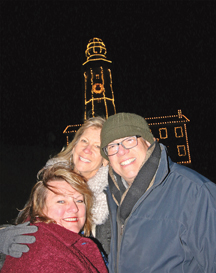 This magical evening was followed by 'Christmas at the Light' on Sunday the 28th from 11am-3pm when families once again gathered for a pre-holiday visit with Santa These events are a holiday gift to the community from the Montauk Historic Society. Although the events are free for all, donations are always Gratefully accepted. The tower will stay lighted throughout the holiday season so take a drive by to see it in all its glory!
For more information go to www.montauklighthouse.com