by Sue Giustino
'casual dockside mexican food by a few Montauk amigos'
After years of enjoying The Hideaway– tucked away at Cove Marina, previous owners Freda and Skip decided it was time to retire.  When that news spread, you could almost feel the mass inhale and holding of breath- as we awaited the final announcement of who and what would occupy this picturesque spot in the harbor.
Well, breathe easy- the Hideaway has undergone some renovations, the menu has been altered, and the owners are new –Charlotte, Zach, and Tintin …but Hideaway Montauk is here to stay!
After a successful 2021 season, the trio have done some fine tuning and are excited for their second season; once again offering a menu featuring a mix of Mexican classics and a variety of grilled and smoked specials. Along with tortillas sourced locally and made fresh daily, they use local fish from Gasman's, and produce from Balsam farms.
Having enjoyed a cocktail and an appetizer last season, I was looking forward to experiencing more of the menu. So we arrived with some friends on a beautiful Friday evening, and decided to sit outside in the new back area.
Overlooking the marina while sitting at picnic tables, makes for a perfect Montauk casual atmosphere. Charlotte greeted us and presented a variety of their specialty Margaritas, created by mixologist and partner Tintin.  While we enjoyed the cocktails, she mentioned that she and Zach are married, and that both she and Tintin are Swedish. Consequently, the restaurant décor was inspired by a Swedish boat house; usually furnished with a mix of old furniture, fishing and boat accessories and nick-nacks. She explained that it's very common to host all your summer dinners in your boat house as it lends itself to beautiful views, sounds of the ocean, and easy hosting since nothing can be damaged.
The new restaurateurs have been working at a variety of different Montauk establishments, and always loved going to the old Hideaway. When the restaurant became available, they were excited at the prospect of running their own place. Since it was always one of their favorites, keeping it as Hideaway was an easy decision.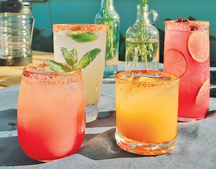 As we discovered, the list of available Margaritas is not only unique, but quite delicious- the variety offers something for everyone.  Tasting them, you can tell that they are all fresh and clean- no mixers. They're prepared each morning with fresh ingredients, then blended with Milagro Tequilla. For the purist, I recommend the CLASSICO-Tequila, agave, lime, and a salted rim.  If you enjoy a little sweet, try the JAMAICA- a bit sweeter than the others, yet not too sweet; with Tequila, hibiscus, agave, lime, and a spicy tincture.  The SANDIA- with mezcal, watermelon, agave, lime, and a chili rim-is perfect for fans of drinks with a bit of a smokey taste.  While the MARACUYA- one of my favorites, with Tequila, passionfruit, agave, and lime has a lovely light flavor without being overly fruity or floral.  There are a few other choices, or they can make them spicy – which some of us tried and loved. You can also get them by the bottle, or choose one of the frozen choices.
Chef Zach has developed a menu with creative choices for either a snack, or a full meal. Perusing the menu, everything sounded delicious. However, since Charlotte did such a fine job choosing our drinks, we decided to let order our meal as well.
I feel compelled to start by saying that everything we shared was spectacular- fresh, tasty, and not overly spicy or saucy. Exactly how 'Freda' had explained to me years ago that good Mexican food should be; able to enjoy the flavor from the blend of the fresh ingredients, allowing each diner to add heat as desired.
Chef Zach sent out an array of items for us to explore, starting with some MERIENDAS—or small plates. The Nachos Escondidos were excellent; piled crisp corn chips arranged with queso blanco, Pico de gallo, guacamole, refried pinto beans and local chorizo.  The Mini Empanadas De Picadillo are perfectly golden empanadas encasing a tasty blend of ground beef, onion, and spices.
On the lighter side are a few salad and fish choices. One lovely dish, is the Ensalada Sandia; watermelon, radish, queso fresco, agave, mint, and lime- the variety and contrast of flavors produces a light, fresh summer salad.  Prepared with market fish, grilled shrimp, mandarin lime, green pepper, onion, chili, and cilantro, the citrusy flavor of the Ceviche Tipico is perfectly balanced with a hint of spice while preserving the fresh flavor of the fish. The Hideaway Crudo; a delicate plate of thin sliced yellowfin tuna, red onion, serrano pepper, cilantro, lime, white soy, and olive oil is another light delicious choice.
Their TACOS ARTESANAL prepared with freshly made flour, or gluten free corn tortillas, are served individually; making it easy to mix and match from the array of tasty, flavor-filled choices. We were fortunate to taste quite a few different tacos. Pescado– is prepared with a thick piece of lightly battered market fish, [usually striped bass] white onion, cabbage, and harissa aioli. Carne Asada– is tender marinated skirt steak, pickled onion, and peanut salsa. Camarones– or grilled shrimp taco is adorned with avocado creama, pickled onion, cucumber, and lime. The Carnitas– is filled with tender and flavorful braised pork shoulder, onion, cilantro, and lime. Vegan or not, the Vegano is deliciously prepared with sweet roasted corn, vegan cheese, and salsa macho. Sounds outrageous? Well, they are, and I'm not sure which was my favorite because they were all so good.
The menu also includes some larger plate choices involving fish, chicken, steak and/or vegetables. Share a few or order your own…whatever you choose, be sure to leave room for the POSTRES. Although full, we enjoyed the delightful mini cinnamon sugar Churros, which were served with vanilla ice cream and chocolate dipping sauce.
As it has always been, due to the marina zoning restrictions, you need to order at the counter and eat on paper plates. However, that's part of why this family friendly restaurant is so quaint. Add to that a dining room with traditional kitchen tables sourced from antique stores in the Amish country, a firepit alongside the outdoor eating patio for enjoying a cocktail on a summer evening, delicious cuisine, and creative cocktails, and Hideaway is a great choice for family and friends to gather.
Check the entertainment page or their website for their live music line-up.
They are open: Tuesday-Sunday from 12pm-10pm (kitchen) bar stays open later until midnight at least. Closed Mondays.
(631) 668-8700   •   364 W Lake Dr., Montauk  •    https://www.hideawaymontauk.com/