…The Newest Gurney's Property
by Sue Giustino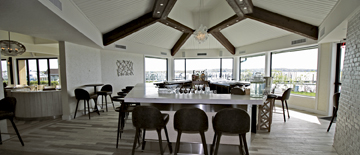 Driving into the parking lot one's vision is pulled to the huge glass enclosure welcoming visitors to the newly refurbished Gurney's Star Island Resort. The grandness of the entrance, which brings you to the ballroom reception area, as well as the severe contrast to the previous look is prominent. Although this is no longer the main entrance, that's been moved down a bit, it makes quite a statement. As does the complete transformation of the exterior and interior décor.
Entering through the doors to the ballroom, your eyes immediately gaze upon the floor to ceiling fireplace-always there- yet now it pops and draws you in. It's been refaced with added definition provided by the beautiful stone along the sides. That, along with the lovely new chandeliers, and extended windows facing the marina and even a corner view of the beach makes it feels almost as if the room was an extension of the outside.  It's obvious their new designer, Stella Abdoulin has the touch.
Since 2015, George Filopoulos and his staff have added Gurney's Newport and now Gurney's Star Island to their list of successful ventures. George and his team have created yet another vacation paradise resort right here in Montauk. In contrast to the other properties, this location in the harbor is ideal for boaters and families looking for a top notch resort. Visitors can even charter a helicopter, plane or boat to go from Montauk to Block Island-missing all of the traffic.
The Gurney's Star Island promises to be a family friendly 'fun' place to be. Although it's operating while still under a bit of construction, we were given an opportunity for a tour. Resort Manager Jaime Stuyck and owner George Filopoulos walked the property with us reflecting on the process of the transformation as well as their vision for once everything is in place. 'Fun' and 'visitor centered' came up numerous times during the tour.
The premise upon which they have designed their programs and amenities is top quality service in a relaxed, laid back fun way. And why not? With this gorgeous waterfront location including pools, unlimited availability of fishing and water sport like Sail Montauk, as well as multiple food/dining opportunities it's an ideal setting for just that.
They have also partnered with Cornell Cooperative for a clean water project with oyster beds in the waters in front of the property. This year it will be expanded and will offer a hands on children's marine biology program.
There are numerous options for dining and snacking on the property as well. The pool side bar and patio is a great place to relax in the sun or under an umbrella while sipping a cocktail and enjoying a snack. The Grab and Go Café- Il Forno, offers brick oven pizza [the oven was specially built for them by a young company from Carmel NY],
BBQ options, fresh salads, sandwiches and cocktails, to a grab and go for meals on the run. 'Show Fish', is the main restaurant overlooking the marina, for which Executive Chef Jeremy Blutstein has created menus utilizing nothing but local produce, meats and fish from local businesses right here in Montauk, the entire East End, upstate NY, NJ and Pennsylvania. Jeremy told us that they are dealing with people, not companies, which goes right along with their overall people friendly atmosphere.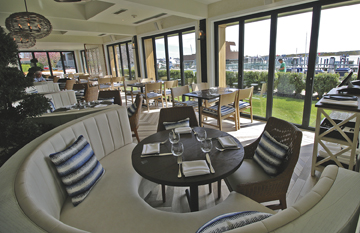 The restaurant concept is reflected in the name 'Show Fish'. As you enter through the lighthouse, alongside the main dining room, there will be an ice table display of fresh fish, another for produce, and a lobster tank. Everything is fresh, local and made in house; from the cured meats, smoked fish, infused vinegars, and pickled vegetables to crackers. He is creating a menu of unique plates:  seafood salads, smoked fish head cheese, scallops, aged bone in tuna, and utilizing all types of local fish simply prepared and a complete raw bar selection. Despite the emphasis on seafood, the meat is not an afterthought. The selections from organic farms will include chicken and dry aged steaks. Jeremy reflected on their vision, "People care where their food comes from, they are eating better." Adding, "Creating a menu based on availability of product lets us be creative, and it's fun."
I enjoyed our conversation and their enthusiasm and really look forward to experiencing the food and all the new Gurney's Star Island Resort and Marina has to offer.
https://www.gurneysresorts.com/montauk-star-island
############
"Years ago when we interviewed George Filopoulos the first time we asked him if the rumor was true that the grand plan of the Gurneys purchase was to flip it in five years. George assured us that his interest was to make Gurneys even better then it's been and was here to stay. We watched all the renovations and improvements in concert while keeping the resort open, very difficult! Now the almost overnight transformation of the Montauk Yacht Club into the new Gurneys Star Island was amazing to see this past winter. I would pass by every week or so just to see what was happening and was impressed by George's Army of contractors busy working. When I asked George to get a tour of the new Resort I could hear in his voice how excited he was and wanted to take us on the tour himself. So I think it's safe to say George and his team are here to stay, and has proven to be one of MONTAUK's assets."     ~ Kenny Giustino