by Sue Giustino
With the completion of Gurney's Star Island Resort, there is now a Gurney's Trifecta. Gurney's Montauk Resort and Sea Water Spa, Gurney's Star Island Resort and Marina, and Newport Resort and Marina, each property with its own unique character and vibe. While Gurney's Montauk perched above the Atlantic Ocean is a full-service, year-round resort and has a Chic Hampton vibe, Gurney's Star Island is a bit more family
fun oriented with the marina and a variety of watersports, the Newport property seems to fall somewhere between the two. Although all three offer an array of amenities, quality service and fine dining, each has its own unique personality.
Situated on Goat Island just off the coast of Newport, RI, and surrounded by Narragansett Bay, Gurney's Newport Resort & Marina is a prefect get-away spot. Accessible by car, train, boat, helicopter or airplane- Newport has always been a fun place to vacation. The Gurney's property offers the seclusion of a private island yet is just a jaunt from the shops and eateries of downtown Newport. Depending on your preference, it's either a quick walk to town, a van runs all day, or there's even a boat you hop on for a view from the water.
Newport enjoys an abundance of waterside attractions and activities, including a Bowen's Wharf full of shopping opportunities and restaurants, beaches, state parks, scenic walks and cruises, as well as landmark mansions, museums, vineyards, and golf courses. Newport's annual events include jazz and folk festivals, regattas, a holiday boat parade, a flower show, and restaurant weeks in spring and fall.
Launching off from Montauk at 10am on the Viking High Speed Ferry, we headed to Block Island where we would catch our ferry to Newport. We arrived and caught a ride to town with Aldo; Aldo's rents bikes, cars and mopeds to tour the island. Having a few hours, we enjoyed walking around, sitting at the beach bar at Ballard's, and a lovely lunch at the Surf Restaurant overlooking the beach. By 5pm we were on the Block Island Express Ferry to Newport, arriving an hour later. Taking the ferries was a fun way to travel- breaking up the ride in Block on such a beautiful day was an additional treat.
Met at the ferry by the Gurney's van, we were shuttled to Goat Island. As with all of their properties, the staff is friendly and welcoming. We were shown to our corner king room overlooking the harbor, enjoyed the lovely view as we settled in, toured the hotel a bit, and then left for dinner at 'Fluke', on the Wharf.
Gurney's expansive grounds offer 360-degree water views, providing an ideal setting for their restaurant Scarpetta, fine dining overlooking Newport Harbor. In addition to an indoor lounge and bar, they have outdoor bars and lounges located on the multi-level deck with an array of fire pits, a full-service spa, an indoor pool, and outdoor saltwater pool located next to the Pineapple Club; which offers poolside dining and drinks.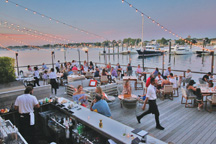 Sitting at the pool under an umbrella on either a lounge chair or couch, visitors enjoy a harbor view through a glass enclosure surrounding the pool. After spending the day relaxing and enjoying lunch by the pool, we sipped a cocktail at one of the outside bars overlooking the harbor. The views are gorgeous, boats out for a taunt, two bridges shining in the slight haze and of course the late afternoon sky slowly changing to the hues of evening.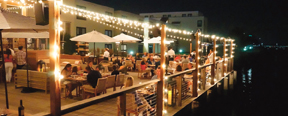 Deciding to eat on the lovely outside deck at Scarpetta, we were greeted by our friendly waitress Debra Lee. Although the deck is situated just around the corner from setting August sun, the colors illuminating the sky as we ate were almost as beautiful as what we are blessed with each evening here in Montauk. However, the view of the bridges and a peer, offering guests access to watersports, is quite spectacular.
As we perused the menu, we nibbled on a basket of fresh breads with a trio of spreads; whipped butter, flavored oil, and a delicious stewed eggplant. We chatted with Debra Lee and the manager Amos Montanez, they informed us about the consistencies with the Montauk, Newport, and Miami Scarpetta Restaurants. Apparently the menus are the same with just a few seasonal local favorites. They also noted that although it's up to the diner, for many it's customary to share an appetizer or two, a pasta, and then for each person to order a main dish- appetite dependent of course. For our tasting, Amos decided to send some of the favorites for us to enjoy.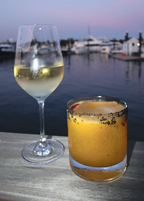 As we waited for our dishes, Debra Lee, who is well informed not only on the menu but with the intricacies of the extensive wine list, brought us a signature cocktail- El Bandito made with Mezcal- and a glass of Gavi di Gavi– a smooth slightly oaky Italian white wine. Her ability to discuss the flavors, body and pairings of the wines is a wonderful asset to the restaurant and of course their customers' palates.
To start, we enjoyed the Charred Octopus and Tuna 'Susci'.  The Octopus is braised with nine spices for an hour and a half then charred, resulting in a fork tender co nsistency with a perfect outer char.
Presented on a dish with artichokes, marble potatoes, celery, guazzetto & charred scallion vinaigrette, I can only say that I've had a few amazing octopus dishes this summer, yet with this unique flavor combination it's one of the best I've had. Not to be outdone, the Tuna Susci is a new twist on tuna tartar. Pressed thin the tuna is topped with micro greens and marinated vegetables then rolled, producing a spiraled tuna roll drizzled with truffle oil and a sprinkle of sea salt. Between the texturecontrast of the tuna and crunchy vegetables, and the blend of flavors accented by the sea salt, this is special and delightful alternative to those of us who don't enjoy the seaweed used in many tuna sushi dishes.
Due to my interest in the Pappardelle, they sent two pasta courses. Each of the pastas are made fresh and prepared with a variety of creative ingredients- sure to entice all pasta lover. The pappardelle is a wide noodle blended with lump crab meat, guanciale, preserved lemon, and English peas. The smooth consistency of the pea puree with a hint of lemon makes this light dish a perfect summer treat. Our other pasta was their signature dish across all three properties- Spaghetti with tomato and basil. We all grew up eating spaghetti, but as Debra Lee put it, "After eating this spaghetti you go home and can't make anything like it, so you come back for more." And she's right, the light tomato flavor with the basil accent does make you want to come back for more.
From the carne list, they sent the Muscovy Duck which is served with six hour braised cabbage, agrodolce, chanterelle, cippolini and apricot mustarda. This tender, thick breast of duck was crispy outside, yet served a perfect medium rare and elegantly accented with the rich sauce and succulent braised cabbage blend.
It's a good thing I didn't see the dessert menu first, because I many have just eaten dessert. Each of the five choices sounds delightful and after Debra Lee's description of each, we chose the house signature Espresso Budino. A cocktail glass full of salted caramel with hazelnut gelato and chocolate biscotti on the side- this treat was a fine decadent ending to our meal.
Scarpetta prides itself in quality food and service for good reason. I've eaten in two of the three restaurants and each time they were consistently flawless. Our meal in Newport, the service, food, and the ambiance, was just perfect.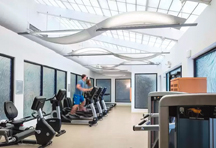 Centrally located, offering 257 guestrooms and more event space than any other property in Newport, Gurney's Newport is an ideal location for traveling on business or pleasure.  Whether staying for a weekend, a mid-weed get-a-way as we did, or a
week, you'll love the gorgeous location and top shelf service and amenities that Gurney's Newport has to offer. https://www.gurneysresorts.com/
Do you need a weekend getaway, but don't feel like spending hours on the Ferry or driving? Taking a private trip to Newport for the weekend in a helicopter [www.NewportHelicopterTours.com or www.CharterFlights.biz /401-843-8687] may be your answer. You'll not only get a smooth, fast flight but you'll also get to experience all of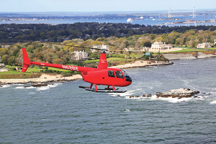 the breathtaking views on the way. Arrive in just 25 minutes in their Robinson R44 and enjoy a relaxing flight. They can transport two passengers plus overnight bags in the copter, or three passengers without bags (weight restrictions apply). Call to reserve your spot, they fly year round! A one way trip is $850 including landing fees.