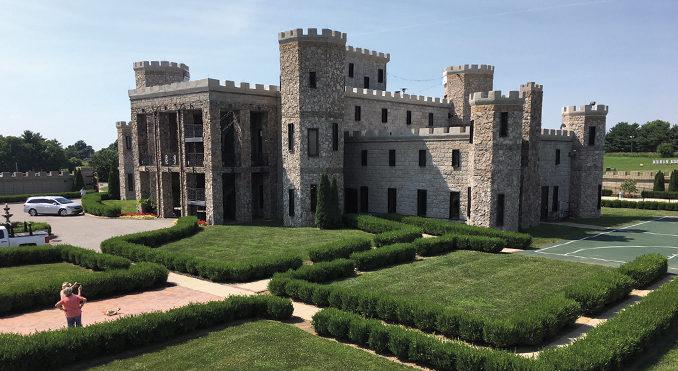 The Kentucky Castle, Versaille and Midway, KY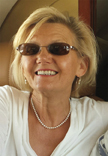 Just recently we decided to travel to Kentucky and finally experience first hand what Noah's Ark could possibly have looked like by visiting the most 'authentic' full-size biblical replica in the world. To be honest, breathtaking was an understatement – but so was The Kentucky Castle, in Versailles. Versailles, Kentucky that is, near Lexington. Architectural Digest had named this beautiful medieval-style stone castle "The Most Beautiful Hotel in Kentucky". It is stunning!
The City of Versailles, county seat of Woodford County, KY was founded in 1792. Located just off the Bluegrass Parkway, it is nestled in central Kentucky within a short driving distance of Lexington. Serene farmland and some of the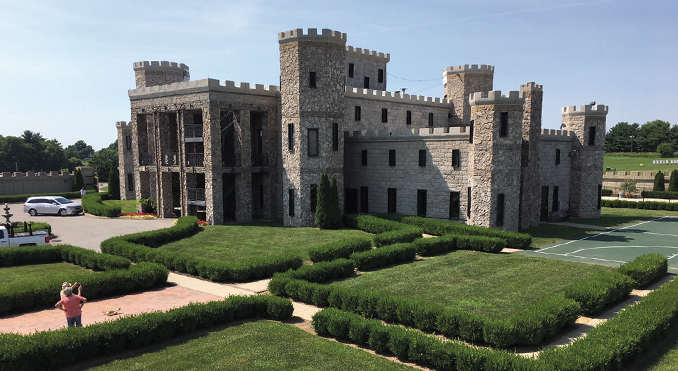 most famous horse farms in the Bluegrass Region surround Versailles. Most of these horse farms are home to famous Kentucky thoroughbreds and winners of the famed Kentucky Derby. Woodford County is also the location of numerous Kentucky bourbon products including the famous Woodford Reserve. The Kentucky Castle is located four miles from Versailles' historic district. www.woodfordcountyinfo.com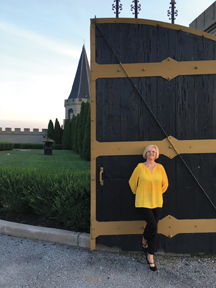 Seeing high stonewalls with four turrets from the road was spectacular, but coming up the driveway and entering the compound through an iron gate was a sight that one normally only finds in the old German castles that are flanking the Rhine river. Rex Martin and his wife Caroline had started construction on this castle in 1969 after they had returned from a trip to Germany and were inspired by the architecture and many famous buildings they had visited in Europe. But in 1975 the Martins divorced and left the castle unfinished. It sat empty for thirty years, and became a popular roadside photo-op for tourists.
The Kentucky Castle, also known as Castle Post, is today a luxurious hotel on a 55-acre estate, hosting weddings and special events, and featuring an incredible farm-to-table restaurant, recently named the #1 most romantic restaurant in the State by Reader's Digest. We checked in right in time to attend an excellently guided, interesting tour of the castle and the surrounding grounds. Our accommodations for the night turned out to be the Presidential Terrace Suite, delightfully spacious and tastefully furnished with beautiful views of the grounds. The precious linens on the king sized bed were truly suitable for a king.
We had reserved a table for two for dinner that night and it turned out to be one of the most gratifying experiences in all the years that I have been traveling around the world. Chef Wall's farm to table cuisine was divine. Jason Walls, the Executive Chef of the Castle Farms Restaurant draws produce from over fifty acres of The Castle's organic and/or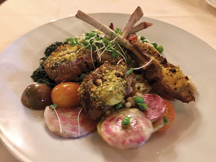 pesticide-free fields and gardens. Whatever he can't produce he sources from local farms. The kitchen staff picks fresh herbs for each plate from the "Chef's Gardens" located right out of the backdoor from raised beds and we could taste the freshness of the ingredients on our palates.
Jason Walls, who is also a farmer and master gardener, is therefore laser-focused on heading up the vegetable production. They use a no-till method with deep mulching to grow in a sustainable manner with as few inputs as possible and zero chemicals. Laying hens range freely and their vitamin D packed eggs are used every morning for breakfast. The hens were quite friendly and easily approachable, so were the pigmy goats, which live beside the garden and love to be petted.
To our surprise we found out that The Castle has their own mushroom farm, located in a small forest with inoculated logs producing nutritious culinary mushrooms.  Shiitake, Golden Oyster, and other varieties are fruiting in the spring and fall. It's truly amazing how these mushrooms turn a log into food. Very few people know that Kentucky has the perfect climate for producing European truffles.  Varieties such as Black Perigord, routinely sell for $2,000/lb. The technology for cultivating these prized fungi has just been developed in the last decade and they're taking advantage of this new knowledge to produce their very own truffles.
The Kentucky Castle is also home to approximately 100,000 bees, in 10 hives, that are busily working every day pollinating the farm and producing honey for the restaurant and shop. Bees also love lavender and the lavender fields are a great food source for the bees and should imbue a distinctive lavender flavor to their honey when they're blooming.
We walked the beautiful castle grounds after dinner, deeply inhaling the scent of flowers, herbs and healthy soil and then we climbed up on one of the rooftops, and watched a breathtaking sunset and a chilled drink in our hand, with a whole bunch of nice people. www.thekentuckycastle.com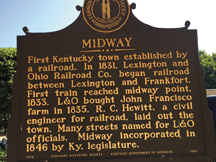 Another historic and charming town that we discovered in the same county and within close driving distance of The Kentucky Castle was Midway. In 1835, the local farmer John Francisco sold his 216.375-acre farm to the Lexington and Ohio Railroad for $6,491.25. The railroad then used the land to establish Kentucky's first railroad town, naming it Middleway for its location relative to Lexington and Frankfort. Middleway=Midway, and still has today a working railroad station.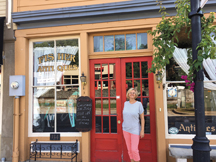 Only a few miles east of Midway is the Weisenberger Mill, founded in 1865, and is the oldest continuously operated mill in Kentucky. Zerelda James, mother of Frank and Jesse James, was born in the Black Horse Inn in town, where she lived with her father, who ran the tavern. Weisenberger Mill has been in the Weisenberger family for seven generations. It is the oldest continuously operating mill in Kentucky and listed on the National Register of Historic Places.
Legendary thoroughbred racehorse Man o' War, foaled at Nursery Stud Farm in nearby Fayette, County, was trained and first ridden by Midway native Joseph Bryan Martin, who is buried in Midway Cemetery. Abraham Perry, an African-American thoroughbred horse trainer, was born in Midway. Perry trained Joe Cotton (horse), which won seven major titled races, including the Kentucky Derby, the Tennessee Derby, and the Coney Island Derby in 1885.
Movies filmed here include scenes from "Flim Flam Man" and "Simpatico". Midway is also a dining destination and is home to some of the best restaurants in Central Kentucky. We found unique shops in downtown, like Crittenden & Company Men's Clothing Store. Crittenden Rawlings spent 45 years working with some of the best-known companies in the fashion and menswear industries. You can find Crittenden Rawlings at many fine retail stores throughout the US, including The Hamptons, New York City and at their own retail stores in Midway, and Lexington, Kentucky. www.woodfordcountyinfo.com
Until next month from another interesting location.
Love, Ingrid
https://www.facebook.com/ingrid.lemme
Author and Ambassador for www.Seven-Stars.com