The Star of Roanoke, Liberty Trust & Salvage Dawgs!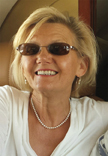 To be honest, during the last two plus years of the lockdown, we have never stopped traveling. Like most people, when flying had become almost impossible, we concentrated on discovering our own beautiful American towns by rediscovering the thrill of the open road. As you might remember from the last issue we had visited Richmond, Virginia's capital, Edgar Allan Poe's playground, and from there we drove west to finally see the Star of Roanoke, the world's largest freestanding illuminated man-made star, constructed in 1949!
It was a pleasant ride as the roads of Virginia's Blue Ridge wind along ancient ridges, lush valleys, green pastures and brilliant fall foliage. Just about a half hour before we reached Roanoke we came across the famous D-Day Memorial side of Bedford, Virginia. Located at the base of the Blue Ridge Mountains the structure encompasses over 50 acres and is one of a kind. At its center stands a monumental forty-four foot tall arch, embellished by the military name, "Overlord," that was given to the crucial operation. The arch is highlighted by a reflecting pool that surrounds a captivating scene that is symbolic of the arduous trudge soldiers made onto the blood stained beaches of Normandy, France. For the "Bedford Boys" who landed on Normandy's Omaha Beach in 1944.
Roanoke, with a population just over a hundred thousand, is the largest city in Virginia west of Richmond and the commercial and cultural hub of the region. Roanoke, first called Big Lick, after a large outcropping of salt that drew the wildlife to the site near the Roanoke River, was established in 1852. In the 1850s, Big Lick became a stop on the Virginia and Tennessee Railroad.
I have stayed in some of the nicest hotels and resorts during our travels, in a covered wagon, AirBnB's, the Seven Stars Burj al Arab, etc etc etc — but never had I slept in a bank before! The Liberty Trust (hotel), located in the heart of Downtown Roanoke, is significantly inspired by its original standing as the former First National Bank headquarters that was constructed in the early 20th century. The lobby is graced with soaring ceilings, chandeliers and marble columns. Upon its completion in 1910, the bank building was Roanoke's landmark of modernity, being the most advanced fireproof structure in the city and one that introduced the latest technological improvements in plumbing and heating. The incorporation of the newly-invented electric elevator was a key element in its multi-story design and prominence, regarded as the most well-preserved and appointed Edwardian era bank building in Virginia.
Most of the guest rooms, former offices, are accessed through precious copper-clad doors. Our modern-chic corner unit granted us fantastic views of the town and the mountains. The custom-made furnishings and the sophisticated décor complimented the bedding of the king-seized bed and the artfully tiled bathroom with walk-in shower. — We'd visited just about 3 month after the soft opening of the hotel and The Vault, now advertised as "a haven for dining enthusiasts", was then still in the works. We can only imagine what it took to convert the bank lobby into a grand hotel lobby, and the spectacular bank vault into a tasting room. Now featured on the National Register of Historic Places. BTW, we love to give a shout out to the young, ever patient, delightful young man Jessee at the front desk. www.libertytrusthotel.com
Since The Liberty Trust hotel is centrally located and within walking distance of most places that one must see, we found an awesome place for breakfast close by. Ernie's on the Market is owned and operated by ex- Roanoke City Fire Fighter Bill Kopcial and Scotty Smith, proud to preserve former owner Ernest Arthur's Boiler Room traditions. As a matter of fact we liked the food, the feel and the whole staff so much that we returned the next morning for more.
The sky was about to clear up when we made our way to The Virginia Museum of Transportation, Roanoke's century-old freight station. The museum includes an extensive collection of steam, diesel and other types of rail cars. But the pride of the Rail Yard are two of the most advanced steam locomotives ever built. the Norfolk & Western Class J 611 and Class A 1218. We climbed aboard decades-old steam locomotives, while watching modern trains pass by on active mainline tracks.
Nothing charms like a well-preserved downtown. It could be the historic architecture or eclectic boutiques like "She's International" or the cozy coffee shops, or the chocolatier "chocolatepaper".
Whatever it is, certain cities have that small down feel that makes it impossible to drive by without staying at least a night. These enchanting towns wow with nostalgia, history, museums and art galleries but there's only one town in the world that is home to the world's largest freestanding illuminated man-made star. And that's Roanoke, Virginia! The Star is visible for 60 miles from the air and sits 1,045 feet above the city. It is illuminated every night, but we decided to drive up to the overlook on Mill Mountain that morning to take photos of the beautiful surrounding valley and the Blue Ridge Mountains as well. The Roanoke Star is an iconic symbol of Virginia's Blue Ridge, serving as a beacon and welcoming sign to visitors.
My husband Marcus and I had on our first night in Roanoke a dining experience that surpassed all our expectations. The five course small-plate assemble, served in the gorgeous Regency Room restaurant at the historic Hotel Roanoke, turned out to be exquisite! We celebrated small grand cuisine with every course and were delighted to personally meet the gifted Chef de Cuisine Mathew Deacon after the last course . Allow me to mention the lady Maitre'd and our server Brody, both first class. Mr. Brody later created flambeed "Banana Foster" desserts for another table and that was worth a show alone.
We'd wondered who had taken on the impossible task of making the huge, heavy bank vault doors part of The Liberty Trust hotel's grand lobby. While Sarah Leffler, the Marketing Manager for Savara Properties gave us a tour of the hotel she explained that the Black Dog Salvage crew was involved! Wow, the famous Salvage Dawgs, as featured on the DIY Network, Amazon, Discovery Plus, and all kinds of streaming devices, is located just a few miles from Roanoke's downtown! Of course we checked out their store and would you believe it the star of the salvage crew, Big Dawg Mike, was present and I got to do a little interview with him right there in one of the show rooms. As some of my readers might remember, I hosted the American Dream Talk Show for years, filmed at Gurney's Inn in Montauk and aired on Hamptons TV WVVH in New York. Therefore, interviewing people comes easy to me and my i-phone is always handy. Big Dawg Mike talked about his crew Robert, Tay, Ted and Grayson and the task of removing those two stately vault doors. https://youtu.be/oUWobdEzM5U
Kathryn Lucas, the Director of Public Relations for Visit Virginia's Blue Ridge had left us a whole folder of information about places to see, a map, a list of noteworthy restaurants and the 'Bloom' was one of them. Dining on our second evening in Roanoke was amazing as well! To be honest, in retrospect we really don't know what happened that night, other than that we witnessed a farm to table climax in Bloom's open kitchen. The locally sourced produce tasted like food used to taste, clean and nutritious. Our seasonally inspired small-plate dining experience in this cozy-cool neighborhood restaurant was an exceptional one and the service of our young waiter a grade above.
Did you know that Downtown Roanoke is home to 9 different museums? There's the History Museum of Western Virginia, O. Winston Link Museum, Roanoke Pinball Museum, Science Museum of Western Virginia, Harrison Museum of African American Culture and Taubman Museum, to mention a few. Because I had always admired O. Winston Link's photography and since he was a successful commercial photographer from New York, this was the one for us. The museum collection comprises the striking photographic and auditory works developed by photographer-artist O. Winston Link between 1955 and 1960.
Lastly on the way out of town we picked up Blue Ridge Apple Cider Doughnuts, still warm and highly addictive, at the iconic historic Roanoke City Market! We wished we had more time to stroll along Market Street and check out local vendors that sell local produce, as well as a variety of hand-made items, including arts, crafts, and jewelry. It's Virginia's oldest, continuously operating open-air farmers market. www.visitroanokeva.com
Until next month from another interesting location!
~Love, Ingrid
Escape From Paradise: www.EscapeFromParadise.net
www.facebook.com/ingrid.lemme         #EscapeFromParadise
Award-winning TV Host, Publisher, Travel Writer.
Ambassador for www.Seven-Stars.com & 15 Emmy awards www.aTasteofHistory.org
www.twitter.com/LemmeEscape         www.instagram.com/ingridlemme