When New Yorkers think of Dallas, they may think of cowboys, oil, and sports, as well as JR, Sue Ellen, and John F. Kennedy. But this city offers much more. Dallas is a modern, cosmopolitan city with many surprises, most notably that it has the biggest arts district in the country—even larger than New York City!
I learned this fact when I met some artists from Dallas at the ArtHampton show in Bridgehampton, where artwork was featured from all over the country. And also at the Hampton Classic Horse Show, where I met fashion maven Hil Davis of Dallas, who was showcasing his online beauty company, Beautykind.us. After working in the luxury men's apparel business, he is now founder and CEO of BeautyKind.us which donates 5% of orders to charities of the shopper's choice.
"We love the Hamptons because of the fashion, beauty, and art, and we're telling people they should also check this out in Dallas," said Davis.
As a "jaded New Yorker," I decided I had to see for myself what this famous Texas city offered in the way of art, food and culture, and after hopping on American Airlines for the four-hour trip, I was pleasantly surprised. To begin with, just the central location of this city makes it a hub for companies flying in for conventions, from any part of the country, in a matter of hours.
Wanting to explore the culture scene, I decided to locate myself near the arts district, at the well-known Fairmont Dallas Hotel. It was only a 45-minute taxi ride from the Dallas-Fort Worth Airport (DFA). The arts district is a 17-block area covering 61.7 acres of Downtown Dallas, and is the largest urban cultural arts district in the U.S. Because the Fairmont Dallas supports the arts, they have an "Artists in Residence" program, where local and regional artists stay at the Fairmont for six months at a time, working out of their on-site studio. When they leave, they donate a piece of art to the hotel's permanent collection.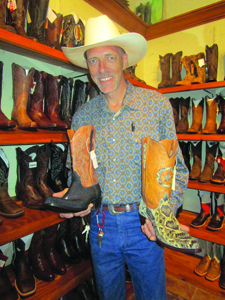 The Fairmont Dallas, part of an international chain, was built in 1969. It has 545 rooms, 73,000 square feet of event space, and a magnificent pool on the third floor terrace, with spectacular views of the city. This hotel also has a large, lively bar area, and the Pyramid Restaurant for meals, with new chef Brandon Drew. The staff and concierge service was the best, especially Chief Concierge Philip Powell. The Fairmont Dallas is famous for its Venetian Room, a historic space where guests once flocked to see such famous acts as Tony Bennett, Robert Goulet, Carol Channing, Sonny & Cher, and others, in an elegant cabaret setting. Today this room and others, are used for special events and conventions.
The Fairmont Dallas, at 1717 North Akard Street, is committed to conserving the environment, with green energy and spaces. Around the huge third floor pool are organic gardens with herbs, strawberries and vegetables that they use in the food, as well as beehives where they get natural honey. They even have a "Bee Hotel" on the terrace, made to look like a miniature Fairmont Hotel, for the pollination of flowers and the creation of more bees, and they market their own "Fairmont Honey." Visit www.fairmont.com/dallas
While in Dallas, we were dying to try a real Western-style restaurant, so we walked over to "Stampede 66" at 1717 McKinney Avenue, owned by well-known chef Stephan Pyles. This huge restaurant had lots of Western character: steer horns hanging from the ceiling, lit-up bottles on the bar, steel horse artwork over the open kitchen wall, and a cottonwood tree centerpiece in the middle of the 200-seat dining room. Stephan Pyle learned to cook in a Phillips 66 truck stop in Big Spring Texas, and over the years he has become an expert in real Texas favorites, along with Executive Chef Michael Matis. We slipped into a comfortable banquette and over Passion Chili Margaritas, we sampled some of the delicious Barbecued Brisket, cooked 5 days, smoked and slow-cooked for 72 hours. We also enjoyed the award-winning Honey-Fried Chicken, with Buttermilk Biscuits and Gun Barrel Gravy. Sumptuous desserts included the Butterscotch Pudding with Salted Caramel, and the Seasonal Fruit Cobbler. Visit www.stampede66.com
A few blocks from the Fairmont, you come to the Dallas Museum of Art (DMA), ranking among the leading arts institutions nationwide, with over 23,000 works spanning 5,000 years of history. While I was there, special exhibits included Vermeer, Irving Penn, and our own Jackson Pollack of East Hampton and NYC. Visit www.dma.org
Next door is the famous Nasher Sculpture Center, home to the Raymond and Patsy Nasher Collection, one of the finest collections of modern and contemporary sculpture in the world. It features over 300 masterpieces by Calder, Giacometti, Matisse, Picasso, Rodin and others. Walking through the outdoor sculpture garden is a must, set amidst beautiful trees and reflecting pools. Visit www.nashersculpturecenter.org Across the street is the Trammell Crow Collection of Asian Art, a serene and lovely museum, which had three floors of exhibits including decorative Tibetan book covers, jade, and Samurai robes, and a gorgeous sculpture garden. Visit www.crowcollection.org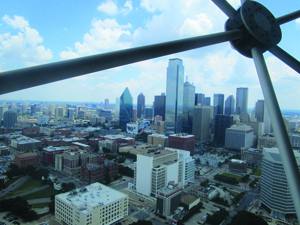 Right near these museums is Klyde Warren Park, a 5.2 acre urban green space with free entertainment programs and food trucks. An amazing restaurant, "Savor Gastropub," is located in the middle of the park. From every glass wall you can look out over the park, in this huge beautiful restaurant, seating 175 inside and 150 on the patio.
Chef/owner John Coleman, who launched "Pink Apron Pastry Company" last year, said he wants to "create memories" here, along with his co-owner, Joe Scigliano.
"In the design of the building, it's meant to be a gathering place for the community..it's a public park and we want to meet everyone's needs. We have lots of regulars," he explained. "We also have wine by the glass on tap."
The food here was divine, prepared also by Chef Matt Hank. We started with savory Lobster Puffs, spicy Lamb Meatballs, and amazing Oven Roasted Okra, and proceeded to entrees of Bourbon cured, smoked Pan Roasted Salmon and slow-cooked Pork Brisket. Outrageous desserts were a rich Brownie and a "Sunday Funday." The food, atmosphere, and friendly service was so good, that we never wanted to leave! Open 7 days for lunch and dinner. Visit www.savor-relish.com
Another new culinary concept is Trinity Groves, a 15-acre complex of restaurants, stores, artists and entertainment at the base of the Margaret Hunt Hill Bridge in West Dallas. The Restaurant Concept Incubator program here gives chefs and restaurateurs a chance to start up their eateries and try them out to the public for a limited time.
We checked out several restaurants here, including Chino Chinatown, a fusion of Asian and Latin; Souk, a Mediterranean bistro and bar; Luck, with 40 beers on tap; Casa Rubia, one of the top 5 restaurants in Dallas, with Spanish Tapas; award-winning Amberjax, a seafood and fish market; the new Hall Bar & Grill; and Cake Bar, with 40 flavors of cakes. Visit www.trinitygroves.com
Further down in the Reunion District, don't miss the famous Geo-Deck at Reunion Tower, a 561-foot observation tower that is part of the complex of the Hyatt Regency Hotel complex. Inside of the Hyatt you can stroll through a photo collection of Dallas history, on your way to the ticket counter for the Reunion Tower tour. You can also get your photo taken on the way up the elevator to keep as a souvenir of these breathtaking views from the top, which resembles a large ball, that lights up at night!
Once on top, we got a fabulous tour of Dallas landmarks from tour guide Tawanda. You can stroll around the Geo-deck, and then have lunch at a restaurant. Further up, celebrity chef Wolfgang Puck opened his fine dining restaurant, Five Sixty, on the tower's revolving top level in 2009. Visit www.reuniontower.com
This attraction is one of several that you can see when buying a Dallas City Pass, for $46 adult and $31 child 3-12, which gets you into four of your favorite attractions. Others include the George W. Bush Presidential Library and Museum, The Sixth Floor Museum at Dealey Plaza, the Dallas Zoo, the Perot Museum of Nature and Science, and the Dallas Arboretum and Botanical Garden. Visit www.dallascitypass.com
We were excited to see the Sixth Floor Museum at Dealey Plaza, having many memories of that fateful day in 1963 when President John F. Kennedy was assassinated in his Dallas motorcade. This museum is on the 6th and 7th floors of the former Texas School Book Depository, and you can stand in the sixth floor window where Oswald allegedly shot Kennedy. You can see the exact spot where his car was shot as his motorcade wound through the street below. On the walls are thousands of photographs and videos of that tragic day. There were people there from as far away as Canada and Australia. This educational museum is a must for the many Kennedy fans around the world. Visit www. jfk.org
Since Dallas has many different sections, we also visited the historic West End, where the famous Wild Bill's Western Store sells real Texas cowboy boots, hats and apparel. Visit www.wildbillswestern.com There is also the fascinating Deep Ellum section, an artsy area reminiscent of New York's Soho and New Orleans, where many young people live, with over 40 clubs and offbeat shops and restaurants. This former warehouse district is known for its live music scene.
We discovered a new restaurant here, called, "Filament," located in an old machine shop at 2626 Main Street. This is the creation of Chef Matt McCallister, owner of FT33 restaurant. Filament means "an idea," like a light bulb, and his idea for this was a big open area, with brick walls lined with graffiti, garage doors, comfy booths, and a long bar. It has an industrial look, and a big open kitchen. There was an eclectic mix of sports, business and an artsy crowd of mostly young people, with Texas blues music playing.
We started with a Vodka Cocktail with grapefruit and ginger, and a Whiskey Smash, with Bourbon and mint. Our waiter, Patrick Dickinson, brought us some wonderful ember roasted, smoky onion dip, and some delectable Cajun Fried Oysters. We proceeded with some tasty New Orleans Style BBQ Gulf Shrimp and the tender Painted Hills Strip Loin, with smoked maitake mushrooms, along with some of the best Cauliflower Gratin we have ever had. Dessert was a tart Berry Cobbler with sweet ice cream. Check out Filament at www.filamentdallas.com, and also www.deepellumtexas.com
Another great restaurant boasting "the best BBQ in Dallas" is Pecan Lodge, located just down the street at 2702 Main Street in Deep Ellum. They have lines out the door, so come early! Visit info@pecanlodge.com
As you will see, Dallas is full of surprises, and you will never run out of things to do! For more information, call the Dallas Convention & Visitors Bureau at 214-571-1027 or visit their website at www.visitdallas.com