by Sue Giustino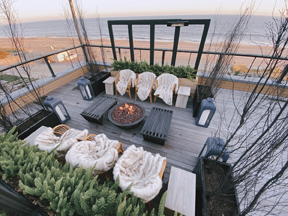 Always offering diverse fine dining experiences, with casual and relaxing gathering environments any time of year, Gurney's new Bungalows By The Sea are an exciting covid friendly addition. Open daily, yet weather dependent, the cozy private Bungalows are a unique outdoor dining experience with open air firepits and seating for up to six.
Although the evening we were there it was extremely windy, the combination of the firepit, glass semi-enclosed dividers, and the cozy blanket lined chairs, we were quite comfortable. Along with a few specialty cocktails and some seasonal favorite menu items, our experience was lovely.
We enjoyed a Gurney's classic Spicy Margarita as well as a few specialty cocktails. The "5mg of Ainsworth Please" is Elijah Craig Whisky, Strega, Angostura Rum, Ginger, Honey, Lemon, and Bitters. The Doctor C combines Serrano Infused Cinnamon, Vida Mezcal, Vanilla, Pineapple, and Lemon. A delectable blend of Tito's Vodka, Yuzuri Yuzu, Pamplemousse, Lime, Lemongrass, and Prosecco, was what I sipped on in the Beatrice Gin Rickey.  Everyone loved each of the cocktails as well as a sampling of some of their choice red wines.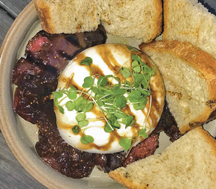 For snacks or a meal, the menu includes a nice selection of Bites, Big Bites, and tasty choices for the Kids. The menu may change a bit throughout the season, but I'm sure the quality and taste will be consistent as always. To start, we sampled a few delicious Bites: perfectly Roasted Peppers with Warm Citrus Marinated Olives and a side of Grilled Sourdough, the flavorful harvest inspired Roasted Pumpkin & Sage Hummus with garlic Naan and Za'atar, and the creamy Burrata with Caramelized Figs, Charred Sourdough and Fig Balsamic. In addition, there is a large selection of other Bites including Vegetable Crudité, Artisan Meats and Cheeses, Lobster Deviled Eggs, even a tempting Spinach & Sunchoke Bread Bowl– and more.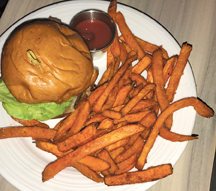 For dinner, we shared a few more from the Bites as well as the OG Burger from the Big Bites list. The Oyster Rockefeller is expertly prepared with Creamed Spinach and Horseradish Breadcrumbs. Atop a Potato Bun, with Caramelized Onions and Savory House Gerkins the Short Rib Sliders were both tender and tasty. To me, if I'm eating a
burger I want it to be big and flavorful. Gurney's OG Burger is just that; a Dry Aged Blend cooked to order and topped with Smoked Ranch, L.T.P., and Cheddar Cheese.   Everything was fresh, flavorful, and fabulous.
Delicious outdoor dining… overlooking the rolling waves… gazing at the moon and stars… it doesn't get much better!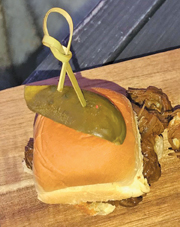 Winter may be upon us, but these Bungalows perched on a deck above the beach are a great option for a delightful outing with safe social distancing.
A $25 per adult charitable donation [13 yrs. and up], is required to make a reservation. The donations will benefit the East Hampton Meals on Wheels, The Retreat, Project Most, and Concerned Citizens of Montauk.
To see all that Gurney's Montauk has to offer, check out their website at https://www.gurneysresorts.com/Montauk