APRIL BIRTHDAY CELEBRANTS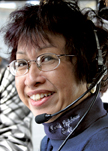 Greetings from Montauk's Senior Nutrition Center. Although the Senior Center in East Hampton was closed for more than a week in April, due to several cases of Covid-19 among some seniors and staff, our Center was not affected and remained open. Wearing masks is still optional and some distance is still recommended when possible. I believe the trick is to stay home when not feeling well so as not to infect others. Easier said than done.
April birthday celebrants were Jorge Kisanovic, Ann Naughton, Mary Kim and our own, Executive Director, Therese Jarmain. Thank you Ms. Jarmain for all the delicious meals that you and Chef Don lovingly prepare with the help of the staff and volunteers, so that the the young at heart can stay healthy and well fed. Thank you also for keeping the room bright and cheery and for beautifully decorating it during the holidays so that the seniors can get into a festive mood. Everyone is so happy when they come to the Center to mingle and chat with their neighbors or welcome new friends. Besides, it's good to get out of the house.
If you are at least 60 years young and older, and would like to join this fun, loving, and friendly, group to eat a well-balanced meal, served on real china and silverware for only $3.00, please come. Bring a friend or relative of any age as your guest. Chair Yoga is available with Ms. Tsuyumi on Mondays and Fridays at 10:45 a.m., Wellness and Balance is available on Tuesdays with Nurse Margaret, Mahjong on Wednesdays, Bingo on Thursdays and all begin at 1:00p.m. Note: You don't have to eat lunch to participate in these programs if you choose not to.
The Center is open Monday – Friday from 11:00am until 2:00pm Transportation is available on Tuesdays, Thursdays and Fridays. For more information, kindly contact Ms. Jarmain at 631 668 1023 and leave a message or email her at mtksenctr@gmail.com. Please call at least 24 hours in advance if you will be joining us for lunch.
Happy Birthday Therese, Jorge, Ann, and Mary. May you have many more to come. Happy Summer!