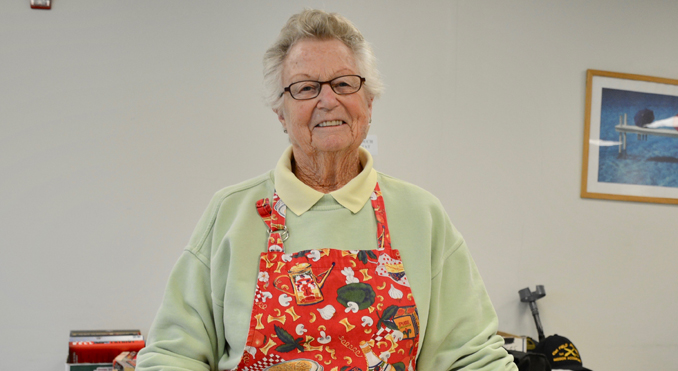 An October 2020 Birthday
Every time the month of October comes around, this reporter finds only one or two seniors at the Center who were born that month compare to three or four in other months. Volunteer Ann Petersen is the only birthday girl this month.
I happened to bump into Ann at the Post Office the other day. She had just exited the door and was walking towards her car. Not being sure if it was her because her mask was covering most of her face, I yelled: "Is that you Ann?" She turned around wondering who had
called her name.
Knowing Ann's birthday was in October, I was curious on the exact date. "What day is your birthday this month?" I asked. "Today IS my birthday, Pat." She replied. I wanted to give her a big hug but couldn't because of the pandemic, I just shouted "Happy birthday!" "You have a gorgeous day today. Enjoy!" Then I blew her a kiss and added.."Miss you…Love you".We were so happy to see each other after six months.
One thing this reporter will also miss is dressing up for Halloween and checking out what the other young at hearts are wearing. I also always look forward to taking pictures of Montauk's grade school kids and their pets, accompanied by their teachers and their parents. Watching the group making stops door to door to collect their treats within the three blocks of main street makes the local merchants happy, I'm sure. Looking at the smiles coming from each child is worth every penny. The whole town is happy.
If you are 60 and over and would like more information in joining this special group and what the town offers, kindly contact the newly elected Executive Director Therese Jarmain at 631 668 1023 or e mail her at mtksencenter@gmail.com. Enjoy the fall weather!. We are blessed. Hopefully the Center will soon open.