MONTAUK LIBRARY OFFICIAL RIBBON CUTTING DAY
by Virginia Garrison
Many said it was the Montaukett Women's Circle Dancers who set an uplifting tone for the official ribbon-cutting at the expanded Montauk Library on May 22. Beautiful weather didn't hurt, but the opening performance seemed actually to have inspired gratitude and joy.
"They were fantastic," said Carolyn Balducci, the library's adult program coordinator, who, along with the library's director, Denise DiPaolo, organized the celebration. "The experience of the dancers set everything off very well."
Introduced by Sandi Brewster-walker, the Nation's executive director and government affairs officer, Madelyn Miller Jackson gave a blessing invoking the four directions, asking audience members to turn north, east, west, and south as she did. Faith Mulally of the Montauk School sang the National Anthem –acapella – and Rev. Bill Hoffmann of the Montauk Community Church gave an invocation. Tribute was paid to faithful supporters of the library from its early days – Karen Rade, Joan Lycke, Stephanie Krusa, John Keeshan, and others – and to the library's current board of trustees, the current Friends of the Montauk Library, State Assemblyman Fred Thiele, and East Hampton Town Supervisor Peter Van Scoyoc.
Jack Perna, the Montauk School principal, introduced Audrey Smith and Daisy Pitches, student filmmakers whose award-winning movies were looping on video screens inside the building. Also inside the new and improved library – which visitors went to explore after the ribbon was officially cut – was the artist Susan Schrott, who introduced an intricately quilted piece of textile art, called "the Seven Sisters," that pays tribute to Montauk's natural beauty by referencing the Association houses. The piece, which is still on exhibit, will be the subject of a gallery talk this month; also on display are an exhibit and video from the Montauk Historical Society focusing on Carl Fisher's legacy in Montauk.
That new exhibit space is officially called the new Local History Exhibit Center, where the library's archival resources come to life through a variety of multi-media displays. The freshly expanded building also features three outdoor public spaces (one with an ocean view!), a spacious new children's department, upgraded technology and internet access inside and out, a sound studio, enhanced archival storage, and upgraded sustainable features like solar panels and a low-nitrogen septic system. The "soft" reopening was in February, and contractors have been applying the finishing touches while the library introduces a growing number of in-person programs.
Organizing the ribbon-cutting seems to have been a little bit like navigating the sandtraps of the multimillion-dollar expansion project – in particular, the threat of Covid casting a shadow over everything. Ms. Balducci said that staging the event had been like putting on a theater production with "all these little pieces. … It looked like it was effortless, it was so well done by everybody."
Speaking about the larger project, meaning the overall library expansion and reopening, Ms. DiPaolo sent special thanks to the members of the Montauk community for their patience and support over the last two years during the construction process.
"It's such a joy to welcome back our patrons and friends to the new, improved Montauk Library," she said. "I certainly hope everyone makes a point of stopping by to experience the views from our outdoor decks, to engage their children in our new Family Room, or to learn about the history of Montauk in our new Local History Exhibit Center." She added, too, that "there is so much more to explore."
---
Lecture/Slide Lecture GALLERY TALK
The Healing Power of Art: Susan Schrott, textile artist
Cost: FREE & OPEN TO THE PUBLIC  •  Registration: recommended
MONTAUK LIBRARY •  871 Montauk Highway. Montauk, NY 11954
Wednesday, July 6, 2022 •  7:00 PM – 8:00 PM
susanschrottartist.com •  susanschrotttherapy.com/about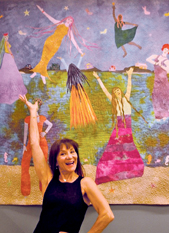 As a fiber and mixed media artist, Susan Schrott synthesizes her life experiences into deeply personal, uplifting images. Her objective is "to move people and instill a sense of hopefulness that is dormant within themselves until they realize that they possess the energy to inspire others." Her exquisite hand-dyed fabrics, intense thread work, and embellishments, add visual texture and depth to her creations. Her artwork has garnered critical attention and numerous awards. Several of her pieces have been included in solo and group gallery exhibitions, permanent installations and private collections as well as being featured in notable quilting magazines and art books. Her most recent work, SEVEN SISTERS, is currently on view at the Montauk Library.*
As a psychotherapist, Susan Schrott is dedicated to empowering adults and children facing a wide range of mental health challenges to live healthy and joyful lives. She specializes in the treatment of eating disorders, anxiety, depression, and relationship issues through safe, compassionate, and effective care. Her training in yoga, meditation and mindfulness supports resilience, courage, and spirituality in the pursuit of living a meaningful life. For more information about Susan Schrott's practise as a psychotherapist see: www.susanschrotttherapy.com/about
* Initiated and presented by the Montauk Library, creation of The Seven Sisters was made possible with funds from the Statewide Community Regrants Program, a regrant program of the New York State Council on the Arts with the support of the Office of the Governor and the New York State Legislature and administered by The Huntington Arts Council.