Animals of the Month
KIWI: This adorable tuxedo kitten was found in Sag Harbor this summer and came to ARF through the Operation Cat program. Under ARF's care, she was diagnosed with a rare kidney condition that has done nothing to diminish her joy! At five-months-old, Kiwi is full of energy and extremely playful (toy mice and wands are her favorite), but she also loves to unwind and cuddle in your arms.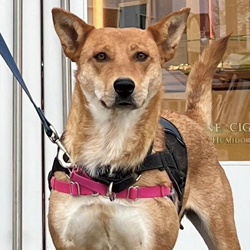 Adopt her today and let the love fest begin!
ZIA: Zia is the two-year-old mom of the puppies that arrived at ARF last month, with the help of our new partner Española Humane in New Mexico and support from the Irving and Phyllis Millstein Foundation for Animal Welfare. Zia kept her puppies safe until they were adopted, and now it is her turn. Her sweet, calm, and loving personality is just one of her endearing qualities that make her the perfect pet.
For more information contact adoptions@arfhamptons.org
or call 631-537-0400 x203.
All ARF animals are vet checked, spayed/neutered, microchipped and up to date on all vaccines.
To view all of our adoptable animals, visit: www.arfhamptons.org
NYS Registered Shelter/Rescue #RR035
---
ARF APPOINTS ZACH SIEGEL TO BOARD OF DIRECTORS
The Animal Rescue Fund of the Hamptons ("ARF") is pleased to announce the appointment of Zach Siegel to its Board of Directors, effective immediately.
Mr. Siegel is the Founder and Chief Executive Officer of The One Nine Three Group (193), a boutique advisory firm that provides corporate affairs, financial communications, and investor relations services globally. In addition to New York and London, 193 has maintained an office in East Hampton since the beginning of the COVID-19 pandemic. Last year, 193 served as Presenting Sponsor of ARF's 2022 Stroll to the Sea event, which achieved record attendance and fundraising.
"As we approach our 50th anniversary, we are excited to be expanding ARF's Board and looking to the future. Zach represents a new generation of leadership for ARF, and his business acumen and overall enthusiasm will make him a wonderful addition to the ARF family," said Katharine Rayner, ARF's Board President.
To view ARF's full Board of Directors, visit www.arfhamptons.org/about-us/board-of-directors.
About ARF Hamptons: Since 1974, ARF Hamptons has provided care and sanctuary for homeless cats and dogs until loving homes can be found. ARF is a leading animal rescue and adoption center on Long Island. In addition to its rescue and adoption program, ARF operates a pet food pantry, free vaccine clinics, and free spay/neuter clinics for feral cats.